A Jockstrap is one such underwear style that has moved from being a functional sports garment to a statement in men's underwear. Along with skimpy and sexy men's underwear, jockstraps are a rage among men who want to flaunt their wild personality underneath their pants! While many brands can say they know what looks good on a man, Baskit is one such menswear brand that offers a great fit, comfort, functionality and style in all its men outfits. This international brand brings in many different underwear styles to provide more options for today's men with active lifestyles.
Since its inception in 1999, Baskit has been redefining menswear styles to cater "to the everyday needs of stylish men." Their designer collections of comfortable, high quality and fashionable underwear, swimwear and varied men's apparel are tremendously popular among statement making trendsetters. Apart from sexy and fashionable jockstrap underwear, the American brand also offers bikini swimwear, boxer brief underwear, brief underwear, muscle top T shirts, short sleeved T shirts, shorts swimwear, square cut trunk swimwear, tank top T shirts and thong underwear for men.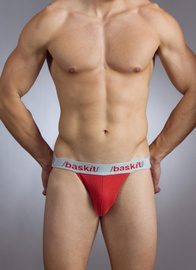 Begin your underwear journey with Baskit Action Cool All Mesh Jock Strap Chinese Red Underwear! Made with only the most premium materials, this Chinese Red jockstrap provides the support needed to enjoy your lifestyle fully whether you are at the office, the gym or on a night out about the town! Unlike other branded jockstraps, the wide waistband and the thick leg straps of the Baskit Action Cool All Mesh Jock Strap Chinese Red Underwear provide excellent rear support. Providing a body hugging fit and offering a maximum level of comfort and support, this underwear is extremely durable and stretchable. The wearer's comfort level is further elevated with the use of a soft and supple cotton fabric which provides a cool and airy feeling along with the mesh pouch that not only keeps your package in place but provides a contoured pouch support as well.
Offering utmost style and comfort, this jockstrap is crafted to accentuate your curves in the best possible manner! Besides the Chinese Red colour option, the jockstrap also comes in two other colours: Uber Yellow and White. So take your pick!
To purchase a pair of Baskit Action Cool All Mesh Jock Strap Chinese Red Underwear or any other colour Baskit outfits, simply log on to DealByEthan! Take a look at our carefully selected collections of hip and cool men's underwear, swimwear, loungewear and menswear that are available at our store at the best prices.