The founder of BOQARI underwear is JJ BOQARI and it is after him that the company has been named. The main inspiration of underwear by BOQARI is various parts of the world and travelling to exotic locales. Modern day adventure is redefined by the styles exhibited in BOQARI underwear. When you put them on, you will as if all your dreams and fantasies have been realised, and that you have reached another dimension altogether.
BOQARI not only designs and supplies various types of underwear like boxer briefs but also offers a variety of things for men to improve their appearance and provide functionality along with looks with things like bags, accessories, tank top t shirts, etc.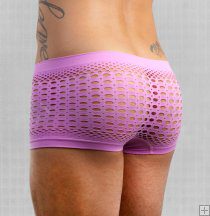 Boxer brief underwear by BOQARI is divided into two broad categories- seamless Argyle underwear and underwear made of mesh. The former has is weaving done on Italian jacquard machines with a blend of 5% spandex and 95% nylon. The resultant material is not only body hugging but ultra soft and comfortable as well. This style is great if you do not want people to notice the seams and lines of your underwear when you are wearing tightly fitted trousers. It is very stretchy as well, and there is no fear of the underwear being too tight. The mesh ones come with almost the same facilities as well. The additional feature is that it is quite revealing and unisex as well. The mesh adds to the fact that the sweat evaporation power is quite high in this style of men's underwear.
The tank top t shirts made by BOQARI are quite breathable with their use of mesh which is composed of a mix of 5% spandex and 95% nylon. The look of the t shirt is quite sporty and the BOQARI logo features softly woven across the chest or back. The material of the t shirt is very soft as well as comfortable.
BOQARI also manufactures stylish bags which can be used by both men and women for travel. You can carry lots of things in this stylish bag including clothes in case you decide to do a short trip somewhere.
Accessories by BOQARI include stylish and innovative earphones, compact stereo speakers for desktop or laptops in a variety of styles and attractive colours.
Take a look at the range of products from BOQARI by visiting us at Deal by Ethan today!