Have you always longed for a brand that is capable of offering almost any type of apparel that you can imagine? If yes, then you must take a closer look at the Svenjoyment brand of menswear – a brand that is diverse, unique, comfortable and stylish.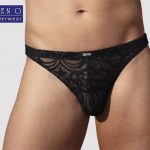 The brand has been catering to the specific requirements of men when it comes to apparel such as underwear, bodysuits, pants and even T-shirts. Svenjoyment understands that each of these apparels is different and requires different material, threads and fabric so that they could be crafted differently. The Svenjoyment collection of menswear consists of apparel such as sexy and stylish Bikini Underwear, form fitting Bodysuits, fashionable Boxer Brief Underwear, trendy and comfortable Brief Underwear, super sexy G String Underwear, fashionable and supportive Jock Strap Underwear, trendy Long Sleeved T Shirts, soft and smooth Muscle Shirts Sleeveless, lightweight Muscle Top T Shirts, comfortable Pants, sexy Pouch Underwear, fashionable Short Sleeved Shirts and Short Sleeved T Shirts, fashionable and sexy Square Cut Trunk Swimwear, unimaginable Tank Top T Shirts, stylish Thong Swimwear and Thong Underwear among other products.
The Boxer Brief range launched by Svenjoyment has found has been admired by many men and fashion experts across the world. The reason why both wearer and fashion experts have been praising it so much is simply because the boxers are comfortable, breathable, sexy, lightweight and perfect for daily wear.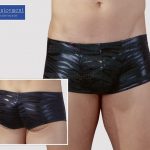 However, if you are planning to slip into something that is completely unique and stylish, then the Svenjoyment Transparent Filigree Thong Underwear available in black colour is a great choice for you. This transparent underwear is amazingly soft and smooth on the skin and is very comfortable to wear. You won't have to put up with sweat, scratchy or itchy feeling once you slip into this incredible underwear. It is made of the highest quality fabric, which is a mix of 50% polyamide and 42% modal and 8% elastane (Lycra). The waistband of the underwear is very soft and never too tight around the waist. Therefore, if you are planning to spend a wonderful and memorable night with your partner then there's nothing better than this underwear!
You can place orders for Svenjoyment Transparent Filigree Thong Underwear at our website DealByEthan and make the most of the exciting discounts and offers being offered by us!