Are your fond of wearing different, dynamic and daring apparel? If you answered yes, then you will definitely like the Private Structure range of underwear for men. Every season, the brand comes up with one or the other creative idea and then designs exciting collection of underwear that is tailor made to need the specific requirements of different men. They have a diverse range of products in store that include menswear such as Bikini Swimwear, Bikini Underwear, Boardshorts Beachwear, Boxer Brief Underwear, Brief Underwear, Loose Boxer Shorts Underwear, Pants, Shorts and Square Cut Trunk Swimwear.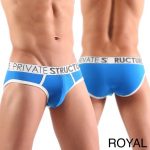 In addition, the brand is gradually moving into other categories and design apparel in casual wear, lounge wear and even gym wear. So, if you assume that you have seen it all, you must give Private Structure range of apparel a try. You will be highly impressed by the high quality, class, design and sophistication that the brand is capable of maintaining. Private Structure allows men to wear what they like and create a bold and unique fashion statement of their own.
Private Structure's products will compel you to dress up stylishly and when you don them then you will feel the magic of their designs yourself. They keep all the practical aspects and features of designing underwear in mind and then create fashionable menswear that is beyond comparison.  The brand has only one intention and that is to provide adventurous, bold and daring men with some of the widest and finest range of underwear. They keep looking for innovative ways to reach out to a vast customer bases and have managed to create quite a huge market for themselves over all these years.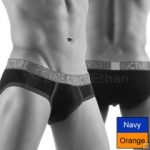 The Private Structure Platinum Contour Brief Underwear, available in combination of navy and orange, is definitely worth praising. It is made of 95% Modal and 5% Spandex and is extremely soft and comfortable to wear. It covers your butt well and enhances your package to give you the bold and smart look. The waistband of the underwear is very wide and has the Players Structure logo all around it.
You can grab Private Structure Platinum Contour Brief Underwear at our website DealByEthan that offers a wide range of menswear including underwear and swimwear!