Buffedbod brand was introduced by ace designer, Ron Serfass. With its sheer quality and style the brand has made its own space in the hearts of men across the globe. The brand has been widely acclaimed and appreciated by men who feel that underwear is as important as any other garment and do not wish to purchase underwear just for the heck of it. The success and praise that the brand has managed to collate so far, has encouraged Serfass to launch new and exciting collection. The best part about investing in Buffedbod is that the brand allows the wearer to customize the design, exactly the way they desire. Buffedbod bodyshirts can be twisted to give them a straight cut, or can also be tapered, based on how close a fit the wearer wants.
So, if you opt for the tapered look, closer to your skin, then you will get a more revealing look. Men who choose to don the straight cut look will enjoy a more loose fit. The wearer also has the option to select from a range of colors, necklines and prints. No other brand gives a wearer so much freedom. The beauty of opting for Buffedbod is that you get an exclusive wardrobe personally designed by Ron Serfass.
The other features that set this brand apart from the rest of the brands in the fray, is the choice of fabric. The fabric that is used for designing each and every garment is purchased by the designer himself, so that the wearer gets to choose some of the finest material including vinyl, sheers, faux leather, printed cotton, nylon lycra and slinky fabric.
What more, you can also customize Buffedbod's swimwear and underwear range exactly the way you desire. Depending on your choice, you can opt for front cuts, back coverage and side wdith of your choice. The best part is that they are available in different fabrics, prints and colors. Men who hit the gym regularly can get the workoutwear offered by Buffedbod. It is extremely stylish and fits perfectly well.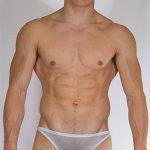 The product being discussed here is the Buffedbod Contour Seamed Front Sheer Bikini Underwear. This mens bikini brief underwear comes with a contour seamed front with a front cut of your own choice. You can also opt for the back coverage and side width of your choice. It is made from sheer nylon lycra fabric and is extremely soft to touch and stretches with ease.
You can find a range of Buffedbod and other brands on online portals such as DealbyEthan. Hurry! Visit the website to find some exciting offers and discounts.