California based Geovanny brand of underwear is meant for men who look for elements such as style, design and comfort in underwear. The brand has the ability to provide men with new colors, cuts and styles that have not been tried or tested by any one. Geovanny has ushered a new era in the men's fashion industry and has succeeded in providing designs par excellence. It is difficult to describe the brand's unique capabilities in words, for they do not offer just any cuts and patterns.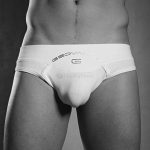 Whether it is a brief, trunk, jock or thong, Geovanny has never failed to impress men across the world, which is precisely why it is climbing the ladder of success one after another. Right from their material selection to styling the waistband and introducing new cuts and patterns, Geovanny has done it all! Geovanny underwear comes with a waistband that is never too tight nor too loose around the waist. It is just perfect, stretches easily and imparts a new look to the underwear all together. Obviously, the waistband carries the logo of the brand, which is precisely why it looks all the more innovative.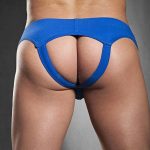 Special attention is also paid to the pouch of underwear that Geovanny designs for its customers. The pouch is designed to give men a hot and sensual look and feel, perfect for men who wish to woo their partners in bed. The pouch of Geovanny underwear is roomy, breathable and extremely stylish. Men who love the enhanced pouch look and want their entire package to be enhanced will fall for Geovanny at first glance.
Men wish to treat themselves lavishly will love every design and cut that Geovanny offers, simply because they are fabulous and true to size. Men who are really fond of the jockstrap style can easily opt for the Geovanny the Garter Jock Strap underwear. The straps of this particular jock are innovative and capable of providing the support and comfort that men seek when it comes to slipping into underwear. Again, the fabric used for designing this incredible piece is soft and of the highest quality. This particular jockstrap underwear features an accented pouch and comes with a contrast binding. It also sports the Geovanny logo on the waistband.
You can search for a wide range of men's underwear including Geovanny range of underwear on DealbyEthan. Hurry! Visit our webpage today!!