If there is any underwear brand that is giving others a run for their money, then it undoubtedly is Groovin. This Japanese underwear brand was not really popular when it was first introduced in the market. But with passage of time, Groovin has managed to create its own space in the men's underwear industry by simply launching unique, inspiring and out of the box collection of underwear one after another. The brand, inspired by the masculine features and form, is now also known outside of its own country-Japan. The main aim of Groovin is to turn the boring, dull and mundane looking underwear out of the closet of men and provide them with something that is fun, vibrant and jazzy.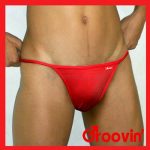 The brand's philosophy of designing underwear is to use fabric of the highest quality to create styles that allow men to slip into them comfortably. Groovin adds the much required fun and comfort to your daily underwear by carefully offering you colours that are dazzling and vibrant. Groovin offers exciting designs gives a lot of assurance to the wearer that he does not have to worry about fit and size. There is something for every man at Groovin and the brand also guarantees workmanship of the highest quality. Groovin's Low Waist Hip Brief has inspired men across the globe and they appreciate the style for the simple reason that it is carved out of fabric, which is essentially a blend of classic cotton and Nylon. Groovin is different and one can easily say so because the brand is capable of offering styles, cuts and patterns that have never been seen before. The entire men's fashion fraternity is discussing the brand as it is capable of offering pouch designs that are comfortable, roomy and stylish-all at the same time. Groovin believes in using superior quality fabric, when it comes to designing underwear and swimwear and no one knows it better than those men who have donned Groovin underwear. The fabric is easy to mould and adjusts beautifully to support the wearer's package.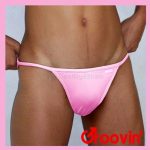 The product being highlighted here is the Groovin String Bikini Brief Underwear Pink. It comes with full front back panels and features ultra thin sides. Men looking to purchase a very sexy and hot bikini brief should take a look at this particular piece before they actually invest in just any other brand. It is made from fabric that is a blend of 92% Nylon and 8% Lycra.
You can find a wide range of Groovin underwear at DealbyEthan.com. Hurry! Visit the portal to grab exciting offers and discounts today!