If you are of the impression that just any swimwear is good for you or your body, then you may have to rethink your wardrobe. Australia based Beach Brasil is one company that has dedicated all its energies towards creating a swimwear brand that incorporates all the features that are a must in swimwear. Even though they are based in Australia, Beach Brasil has left no stone unturned in capturing the very essence of a Brazilian lifestyle. Beach Brasil came into existence in the year 1995, and since then, they have been creating fabulous and sexy swimwear and beachwear to suit the demands and tastes of different kind of men. They have their manufacturing unit in Red Hill in Brisbane.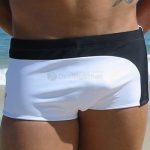 The designing team at Beach Brasil combines the latest technology and high quality fabrics to craft some of the most terrific looking swimwear. They use fabric, which is basically Italian Lycra to design their entire range of swimwear. This is not all! When it comes to naming their swimsuit collection, they have named each of them after different beaches in Brazil. The creators of the brand do not focus only on launching different designs but go a step further and concentrate on the fabric's quality as well so that the wearer feels good in the swimwear.
Beach Brasil also utilizes Matt Lycra as well as Bright Lycra to create a wide variety of swimwear. They also use a lot of White Lycra to design their swimsuit range which is not as revealing as others. This particular style has been admired by men who wish to flaunt their tanned body and do not want to reveal too much of their body. Their entire swimwear collection comes in dual lined patterns. In fact, the brand is also renowned for using accessories to create exciting swimwear, and all the accessories used by them are tested in chlorine and salt water before they are actually put onto the swimwear. Beach Brasil always uses non-rusting aluminium as well as plastics that are safe to use.
The Beach Brasil Squarecut Sunga Praia Do Rosa, available in white colour, is one of their finest products. It comes with a contrast panel and is named after the famous Praia Do Rosa beach situated in Santa Catarina. This particular swimwear is like by men who love to flaunt their body while they are at the beach. It features a dual line on the front and single line at the back. This swimwear is made of 80% Italian Lycra and 20% Lycra.
You can find Beach Brasil Squarecut Sunga Praia Do Rosa at our website DealByEthan which also offers great products and exciting discounts on underwear and swimwear!