If you are crazy about T-shirts and like wearing them almost on a daily basis, then Ajaxx63 is your brand for sure! Ajaxx63 believes in providing men with fashionable and trendy clothes that further allows them to make their own style and fashion statement. The brand picks up the latest concepts and themes to design creative, stylish and gorgeous T-shirts that stay in vogue for a long period. The brand has a wide variety of T-shirts for gay community as well.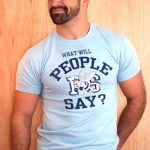 The idea of launching the Ajaxx63 brand of T-shirts for men first came to Bill Sherman and Andrew Fraser. While Bill had designed multiple clothes for brands such as Ralph Lauren/Polo Sport, Gap, Eddie Bauer and Vogue, Andy is basically renowned as a management guru from the Museum of Modern Art and Sony in New York.  The two resolved to put together their mind and money to establish a brand that served men as well as the gay community. The duo decided to relocate to Seattle and incepted Ajaxx63 in the year 1997.
Both Andrew and Bill put in a lot of hard work and dedication to design unique and the latest collection of T-shirts so that gay people all across the world can lay their hands on something that is fashionable, electrifying and colorfully pleasing at the same time. Every Ajaxx63 T-shirt is made of the highest quality fabric that is carefully sewn to create wonderful T-shirts that are never dull and boring and always in tune with the latest in the fashion industry.
The Ajaxx63 range of T-shirts is meant for men who love to don fun, exciting and out of the box T-shirts. Every Ajaxx63 T-shirt is created after observing the gay lifestyle and culture closely so that they get exactly what they are looking to buy. Apart from T-shirts, the Ajaxx63 brand also incorporates a wide range of Beanies, Caps and Jewelry. The brand offers different styles of T-shirts including, Long Sleeved T Shirts, Muscle Top T Shirts, Short Sleeved T Shirts and Tank Top T Shirts.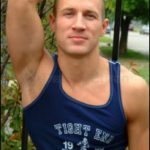 Those who are planning to grab Ajaxx63 brand of T-shirt could grab the Ajaxx63 Tank Tight End tank top for starters. This is basically 'A' back beater style of tank that is made of 100% cotton that can be safely worn to the gym or the club. This particular tank top allows you to flaunt your muscles and move around with complete freedom. It stretches easily and is extremely lightweight.
You can order Ajaxx63 Tank Tight End at our website DealByEthan and make the most of exciting discounts and offers on a range of brands for men!