Bonds is a brand of menswear that is different than a host of other brands that are trying to influence and impress men with their not so engaging and exciting collection of apparel. The Bonds brand of mens apparel have been around in the industry for many decades now, and every year the brand has introduced fresh and appealing line of clothing for men with the same amount of dedication and focus that they had started off with. The brand has created its own niche in the mens fashion industry and is being admired by men of different classes and origins.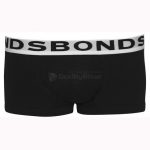 Bonds brand of menswear was set up in the year 1915 by George Alan Bond, and since then, the brand has been creating fabulous apparel for women, men as well as children. George was basically an American who came to settle in Australia in the twentieth century. Earlier, his company only focused on creating gloves and hosiery for women. However, in 1917, George started manufacturing a range of hosiery in Redfern situated in Sydney. It was in the year 1918 that George decided to move over to Camperdown and started creating underwear. His journey did not end there and he set up a cotton spinning mill in Wentworthville located in Western Sydney in the year 1932.
Though the brand is more renowned for its singlets, Bonds also offers a wide range of underwear including briefs, boxers, t-shirts, tank tops, g-string, polo shirts and trunks for men.
The reason why the brand has managed to build its reputation is because it has employed a team of ace designers to create unique, sexy and stylish range of menswear. Fashion designers and experts have already labelled the brand as one of the best menswear brands. If you feel that you want to slip into something really different and comfortable then you can try wearing the Bonds Fit Shorts. This particular short is available in black colour and is extremely comfortable. If you are planning to relax at home or even if you wish to go to the gym in a shorts, then there is nothing better than Bonds Fit Shorts. It offers complete freedom of movement and the wearer will never feel too tight in it for sure! It features a broad waistband that has the Bond Logo all over it.
You can place order for Bonds Fit Shorts on our website DealByEthan and enjoy great discounts and offers on a wide range of mens apparel!