A number of changes were visible in the year 2009 to the underwear range of N2N Bodywear. However, their range of Cotton Boxster remains more or less the same. N2N's boxster style is square-cut and has flat front moulding around the package of the wearer!
An exposed elastic waistband of standard measurements is included among the basic features of the Cotton Boxster! In 2009, some new options regarding colours were added. This underwear was previously available in only light blue and green, but now you can get your hands on Cotton boxsters in colours like white, black, navy blue and bright orange as well!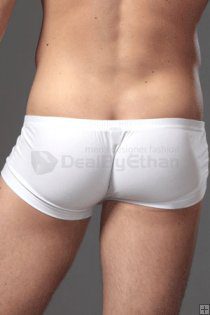 The elastic of the waistband has a soft texture on the inside which makes it comfortable for all day wear! The waistband's front has the logo of N2N sewn flat measuring 5/8 inches x 1 1/8 inches. The letters of the new logo of the brand are thick typographic ones. The fit of the boxster is true and great! The waistband's inside centre has the logo tag containing the wash and care and fabric information and is made of shiny synthetic fabric. The underwear offers full coverage at the back and the seams of the designs come in from the sides.
There is no reinforcing of the waistband with elastic and just folded over and then seamed together with the main brief. The fabric of the line is of a fine quality and is actually a mix of 10% spandex and 90% cotton. This mix makes it highly stretchable. The underwear in white is quite see-through. However, due to the all round single layer the fabric is light weight and is quite breathable and great for all day wear! There might be visible outlines which you be very careful about though!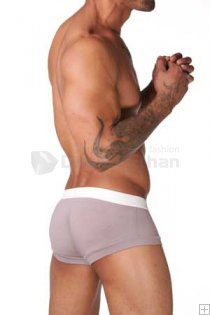 The low rise cut is comfortable and this underwear can be a good substitute as sleepwear and can also be used for simple lounging. Although the front and back is flat, you will get shape and lift from the pouch!
One thing to be noted is the great construction of the N2N Bodywear Cotton Boxster. It is not only good and has clean stitching but there are no loose threads revealed with fabric cuts displaying clean edges.
Get your hands on the well-made and comfortable N2N Bodywear Cotton Boxster from our store Deal by Ethan which supplies you with the best brands of men's underwear at the best offers and rates!!