This fashion label has been in existence since 1995 and the famous designer John Falocco is its creator. Their line of activewear and swimwear for men is not only of high quality but extremely sensual and seductive as well. While designing each of their men's underwear styles the provision of fit, style and comfort has been kept in mind.
The contour of the designed swimwear and underwear is aimed at celebrating and flattering the male body in all its glory! Only the finest quality fabrics are used and hand cut by John Falocco himself and the uniqueness of their designs and styles is such that you are bound to turn quite a few heads when flaunting them at the pool or the beach!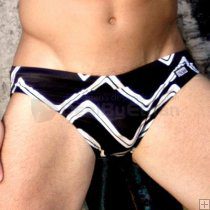 Their brief bikini swimwear is available in a number of different shades and types. You can choose from plain styles or from the various prints that can be got in an array of colours! You can even get them in a flag of America design, which is where the brand was born. Get them in nylon-lycra blend or in mesh for a super sexy affect!
The bikini swimwear in Falocco Collection is available in the basic colours- white and black and is made of transparent, offering a vast amount of teasing and titillation! The mesh is spun out of a mix of 15% lycra and 85% nylon. This is not meant for the fainthearted so make sure that you can dare to bare before you buy them!
The boardshorts that the brand manufactures are meant for the athletic men and the look is aptly so! The fabric used is 100% polyester and the finish is water repellent and fast drying. It is low rise with drawstrings and is hand cut! It is available in colour combinations of black and white to give you an athletic feel!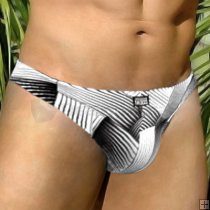 Choose from solid coloured, printed or mesh types when it comes to thong swimwear. The fit is perfection itself, and has been designed solely for the purpose of glorifying the male body.
For bashful males too, Falocco Collection has the perfect way to showcase their style! Their square cut trunk swimwear collection is a myriad of beautiful colours, used in a way never thought possible before! The colours are eye catching and their varieties can blow off your mind!
Browse through Deal by Ethan today for amazing ranges of Falocco Collection and unbelievable prices! Hurry!!