Gigo Underwear is like a Colombian melting pot of playful, colourful and unique designs and ideas related to men's underwear! The underwear from Gigo Underwear bears the distinct reflection of diverse cultures that is the hallmark of Colombia, which is home to various cultures and ethnicities like Middle Eastern, African and Native American! The amazing concepts, styles, colours and ideas are due to these cultural influences.
A mere look at Gigo Underwear is enough to make you mesmerized with the styles and concepts which are vastly different from any other brands out there in the international market! In fact, the unique blend and choice of colours will surely hypnotise you!
The variety of styles that Gigo Underwear brings to you include boxer brief underwear, bikini swimwear, brief underwear, jock strap underwear, g string underwear, square cut trunk swimwear, shorts, long boxer brief underwear, short sleeved shirts, tank top t shirts, etc.
The designs and prints of each of the styles of Gigo Underwear are unique and one of a kind! Not only are the patterns unique, but the colours combinations are totally creative as well, and bound to leave you dazzled and pleasantly so! Feelings and thoughts are captured in the prints and designs of the underwear and that too with a precision that is breath taking!
The materials that are used to craft each piece of this artistic representation are various mixes in varying proportions of fabrics like nylon, spandex, cotton, polyester, lycra, etc. The variations in the percentage while mixing them lends unique elasticity, appeal and stretchability to each of the articles of clothing!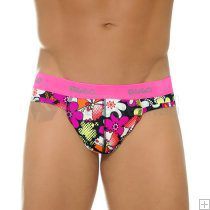 Gigo Underwear prides itself on the fit that it lends to the wearer! When you wear underwear from this brand, it is bound to highlight and emphasize each of your attributes to perfection!! In fact some of the underwear in their range have c rings to uplift and shape the package!
Each of the styles of underwear of Gigo Underwear does exactly what they are supposed to do! There are styles for the requirements of all. Their jockstrap underwear will provide full protection from shock and stress due to physical activities, while their swimwear collection is bound to turn a few heads and grab the attention of people when you are out at the beach or at swimming pool!
There is huge here at Deal by Ethan for Gigo Underwear due to the amazing deal offered! Now you save anything from 37% to 51% when you buy Gigo from us! Hurry now!!