Have you ever had any deep fantasies? Of course you have! But have all of them been ever fulfilled? Well, now here is the brand that helps you fulfil all of them! Fantasy Underwear is the company that has only aim in sight- to make sure that all your complaints regarding your fantasies not getting the taste of reality are meted out!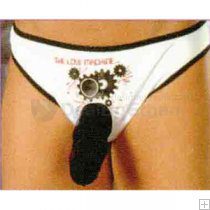 The name Fantasy Lingerie is apt as the main emphasis of the various styles of this brand's underwear is to tap into the innermost fantasies of their customers! Various styles which you can choose from are brief underwear, boxer brief underwear, thong underwear, pouch underwear, etc.
There are many variations of their boxer brief underwear. One thing is common though- the fit is great and aimed to highlight all the attributes of the wearer. The Christmas collection really makes you feel as if Christmas has come early! There is the one with candy cane stripes, another which is furry in appearance and yet another with heart patterns on it, besides the conventional plain one.
The range of brief underwear that Fantasy Lingerie has is called love machine and it certainly lives up to its name! The long thing which is sticking out of the underwear adds to the erotica and heightens it by leaps and bounds!
The sheer variety of pouch underwear under Fantasy Lingerie collection is enough to take your breath away, not to mention what the stylish designs can do! There are types like Christmas candy cane posing strap, Christmas classic furry posing strap, Christmas perfect present posing strap, Christmas elf posing strap, Christmas snowman posing strap, Christmas Santa posing strap, I love you posing strap, Be My Valentine posing strap, etc. In fact, for thong underwear, the list can go on and on! The design and style of each one is unique just like all individuals are unique in their approach to life and tastes and requirements are one of a kind!
Fantasy Lingerie believes in using the finest fabric and materials available in the market. So despite the fact that they may look delicate they are really very strong and can withstand lot wear and tear!
There is hardly anything left to say about the unique use of colours and motifs to define your fantasies. So what are you waiting for? Visit Deal by Ethan today and grab Fantasy Lingerie at the best prices!!