The global underwear brand King Style Underwear is celebrated due to the pouch style underwear patented by it! The brand is the first of its kind to offer a brand new concept of men's underwear that makes the male body appear more special! The products that they manufacture have ergonomic designs that highlight all the aspects of the male body. The users are offered sensuous and yet healthier living through the features of the King Style Underwear.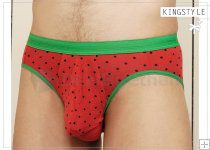 The brand designs the underwear in a unique way that does not give you a tight feel, is extremely comfortable and yet at the same time fits snugly! One of the important feats that the unique engineering of the underwear does is insulating the scrotum from the groin's skin so that there are no problems of skin rashes or any sticky and wet feeling.
The shape of the pouch of the underwear is different in the sense that it is specially press moulded and net like in shape. This allows the scrotum plenty of room to breathe as well as circulates air to perform cold-shrink, heat-swell functions. In fact, the underwear even helps in restoring the adjusting ability of the scrotum where temperatures are concerned, which in turn reduces any possibility of impotency!
There are many variations of their bikini style underwear regarding shape, materials used, colours and prints. There is mesh underwear which gives a see-through effect. There is also a style which is made of a blend of 10% spandex and 90% polyamide, perfectly stretchable and perfectly quick drying!
You can get varieties of boxer brief styles from King Style Underwear as well. Get normal ones or ones with long legs. The materials used are either mesh or a blend of 10% spandex and 90% polyamide. There are plenty of styles, colours and prints of underwear to choose from.
Get options galore for brief underwear by King Style. Their colours are bold, vibrant and fun or muted as well to suit your tastes. They are made of a blend of 5% spandex and 95% cotton, which makes them not only soft but with good absorption powers as well!
Other styles of King Style underwear like jockstraps and loose boxer shorts have plenty of varieties to choose from as well. Visit Deal by Ethan today to take a look at the range of King Style underwear and avail of amazing discounts and offers!