One of the underwear brands that are always trusted to bring creative and innovative products on table is N2N Bodywear! The uniqueness is not only dependent on the style and design, but on the pattern, sex appeal of the garment as well as the fit! One of the unique innovations of N2N Bodywear is the brushed tactel boxster range!
The material used to fashion these tactel boxsters is a blend of 8% spandex and 92% nylon. The square cut style has been wrapped around with flat back and front design and extreme low rise.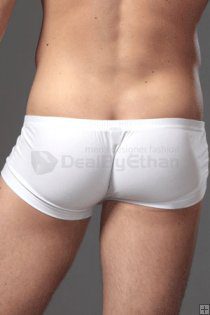 The colours that N2N Bodywear Brushed Tactel Boxster is available are the basic white and black. The fabric of brushed tactel is signature with a unique feel. It is not only soft to touch but can lightly remind you of some suede surface! There is soft sheen on the fabric's exterior while the inner part is totally shiny!
The thinness of the microfiber fabric makes it quite revealing. So while wearing it one thing must be kept in mind that you will not be leaving much to the imagination when you wear N2N Bodywear Brushed Tactel Boxster!
Fully covered elastic comprises the waistband which measures about ¾ inches with great fit, being true to size like the rest of the N2N Bodywear lines. The brief has very little decoration except for the N2N logo tag which has been sewn flat. The fabric content and size/ care tag is located just behind the tag which has the logo.
The boxster has two side seams and there is not much of a leg design as the legs' base consists of folded material of 1 inch without any elastic reinforcement.
The fabric is very stretchy which adds to the comfort factor of the fabric as well as the underwear! In fact, it is suitable for wearing all day long, thanks to the soft material! It even feels like a second skin and provides a molding like effect that helps in quite a bit of lift and shaping. This might seem a bit surprising to many people due to the lack of structure or seams of the pouch!
The N2N Bodywear Brushed Tactel Boxster is cut low rise which may result in showing a bit of your hips near the waistband.
Get your hands on a pair of N2N Bodywear Brushed Tactel Boxster today and take advantage of the number of deals and offers given by us here at Deal by Ethan!!