Boxer brief underwear offers both fashion and function to wearers who want to look good but not excessively revealing in their undergarments. Due to the availability of different and diverse styles, fits and cuts, this type of underwear is exceptionally versatile. Offering superior comfort and a close fit, boxer briefs are not only different from briefs and boxers but other types of underwear as well.  Famed for the motto "Be fashionable all the way" Ken Wroy is among the most sought after menswear brand all over the world.
Based in New York City, the fashion label Ken Wroy was founded by Vasumathi Soundararajan in 2011. Since its inception this globally recognised underwear brand has been offering fashion and image conscious men with tastefully designed menswear in eye catching prints and colours. With the aim to dress up men in fashionable undergarments instead of dull and boring underwear options, the designers at this renowned fashion house produce funky fashion designs that draw upon the spirit and unlimited energy of the fashion hotspot – New York City. The fashion collection of this American based brand includes brief underwear, short sleeved T shirts and tank top T shirts for men.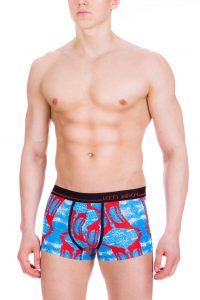 If you prefer boxer briefs in exotic and funky prints, Ken Wroy Afro Giraffe Boxer Brief Underwear is most apt since it offers unmatched vibrancy and boldness. Manufactured using a special cotton and elastane fabric blend, the underwear features fun and attention grabbing giraffe patterns all over this blue colour underwear. Radiating a soft and delicate feel, the boxer brief is enormously light in weight and airy. While the breathable cotton fabric keeps you fresh all day long by absorbing all the moisture as well as drying up in no time, the snug and close fitting pouch not only contours and shapes your asset in the most appealing manner but offers highest levels of comfort all day long! In addition to this, the durable and strong black elastic waistband keeps the underwear fitted to your body while providing an even pressure distribution all over your body.
Dotted with images of playful red giraffes along with the use of bold and stylish colours, Ken Wroy Afro Giraffe Boxer Brief Underwear is not a standard boxer brief but an exciting pair of underwear!
To get your hands on some fashionable and interesting boxer brief underwear, checkout DealByEthan now! We have the best selection of stylish Ken Wroy menswear and other men's underwear, swimwear as well as loungewear on sale!