Even now a short sleeved T shirt is still every man's favourite clothing. Whether used as an outerwear or an innerwear, this type of men's apparel is a wardrobe essential for all kinds of occasion. Providing comfort along with exceptional style, it comes in an array of cuts, styles and colours to match different fashion preferences. Among the different popular menswear brands, the UK based Contrast Clothing is one such brand that offers outstanding collections of short sleeved T shirts.
Founded in the winter of 2003 by a group of young artists, London based Contrast Clothing has made a mark for itself in the men's clothing market with its distinctive and original designs and themes. Designed for the masses, their visually appealing outfits are preferred by men everywhere to showcase their individuality in the unique themes of their designs, which range from symbols to characters to people's emotions and environment. Apart from skilfully designed short sleeved T shirts, the brand also provides tastefully done long sleeved T shirts, jackets, vests, sweaters and hoodies for men all over the globe.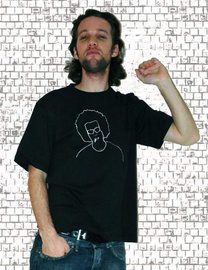 To look trendy and attractive in your casual wear, try on a Contrast Clothing Afro T shirt for a change! Offered in solid black shade, the designer short sleeved T shirt features one of their distinctive designs – of an Afro man – on the front. Made from 150-160 grams of high quality combed cotton, the casual tee feels extremely soft and delicate across the skin. While remaining exceptionally stretchable, it is designed to provide a figure hugging fit to wearers of different body shapes. The presence of a breathable cotton fabric makes sure you experience ultimate comfort with each and every use!
Light in weight and skin friendly, this T shirt takes in all the moisture to give you a fresh and cool feeling during arduous tasks or hot weather conditions. Featuring double stitching, this designer outfit guarantees a quality construction along with the promise of sexy visual appeal. Sporting a round neckline, it goes well with all kinds of outfits. You can pair it up with your jeans, chinos or casual trousers to sport a laidback appearance!
If you are interested in buying a Contrast Clothing Afro T shirt, visit our store today for affordable Contrast Clothing menswear. We also offer carefully selected collections of men's underwear, swimwear and loungewear at amazing prices, so visit DealByEthan today!