Red Dog is one of those brands that can be credited for ushering sense and sensibility in the Men's fashion industry. The brand was incepted with the idea of offering environmentally friendly products to men and it can be safely said that Red Dog has quite successfully managed to achieve the same. All Red dog products including Red Dog Sportswear, boxer briefs, trunks and sport briefs are crafted from organic fabrics, which clearly mean that the wearer will get to touch, feel and wear the fabric of the highest quality. Red Dog products are designed and manufactured in Turkey using SKAL certified organic cotton (exclusive of trim).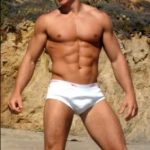 Each of their designs and creations are made from environmentally friendly dyes so that the wearer gets the best color quality and a great product, at the same time. The primary reason why this brand is different than others is that it encourages organic farming by giving farmers all the necessary tools to improve their skills and thereby the quality of the cotton. As a result, the wearer gets the perfect chance to slip into extremely comfortable and soft fabric. The sheer fact that each of Red Dog's products are crafted from cotton that is grown devoid of any pesticides or chemicals, makes it a truly exciting and unique experience for men who opt for them. Whether you opt for the Red Dog Sportswear Boxer Brief Underwear or brief underwear or even the Short Sleeved T Shirts, you will definitely feel all the difference.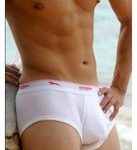 The brand has always strived to launch new designs and lays thrust on the concept of organic clothing. Nothing can match their unique concept that brings along with it expressions and styles that are truly creative. Red Dog allows men to uplift their personalities, lifestyle and beliefs further. The Red Dog Sportswear Organic Cotton Eco-Sport Brief Underwear is one of the finest designs ever crafted by the brand. This amazing sport briefs has been designed for men who are environmentally conscience. They are soft, comfortable and yet luxurious. Available in different sizes, this underwear is made from SKAL certified Ribbed Organic Cotton. It comes with a stylish pouch front that does not have any opening so that you can enjoy maximum comfort. The fabric is smooth and comfortable and the entire pattern is impressive and different. Its waistband stretches easily and is never too tight around your waist.
You can place your order online from stores such as DealbyEthan that offers great discounts and offers all different brands and products.