Men's tank top T shirts have many uses both casual and sports. While some use them as gym wear, others use them to make a style statement with their casual pants or jeans. Whether worn under a shirt or as outerwear, these tops are the most favoured casual wear during the summer months. The range of stylish and trendy tank tops from the Australian brand Cocksox offer utmost comfort, helping you to remain cool and relaxed all day long!
Located in Sydney, Cocksox offers a wide variety of sexy and profile enhancing menswear for men who like to look their best in top quality designer men's clothing. Suitable for wearing on a daily basis as well as for special occasions, the designers at this reputed fashion house are always striving to offer shape-enhancing cuts and styles that are meant to flatter the male figure. Besides tank top T shirts, the brand specialises in offering stylish bikini swimwear, bikini underwear, boxer brief underwear, brief underwear, G string underwear, jockstrap underwear, long boxer brief underwear, long underwear pants, square cut trunk swimwear, thong swimwear, thong underwear and multi-packs for men.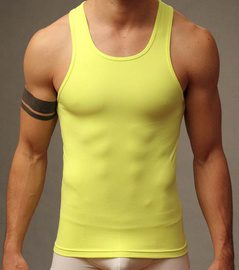 Crafted from top quality fabric blend of Supplex and Lycra, the Cocksox Active Tank Top T Shirt can be worn as an outerwear or as an undergarment. Like all the other Cocksox outfits, the presence of this unique fabric blend makes this designer T shirt highly stretchable and soft without losing its figure hugging shape at all! At the same time, while the high performance fabric absorbs all the moisture, the well constructed shoulder cuts make sure that you remain fresh and dry the whole day!  Designed to fit the contours of your body perfectly, the designer top does not fail to provide you with excellent freedom of movement and support during all kinds of exhausting tasks. Providing maximum comfort and support along with excellent style quotient, this is exceptionally suitable for men with active lifestyles!
Available in three cool and trendy shades of fluoro yellow, graphite black and ion white, this tank top T shirt is ideal for both the athletic men as well men with a classic dressing sense!
If you want to sport the Cocksox Active Tank Top T Shirt, visit DealByEthan today! We have the entire range of Cocksox menswear along with other stylish and trendy men's underwear, loungewear and swimwear available at the best possible prices!