Besides commonly used underwear such a briefs and boxer brief underwear, skimpy and skin revealing bikini underwear is fast becoming a common sight among body and fashion conscious men everywhere. Boasting of comfort and style, this type of underwear is available in different cuts, colour palette and looks to complement all kinds of fashion tastes and personalities. Bikini underwear from the Joe Snyder menswear collection is immensely popular because it fulfils the wants and needs of men for well made underwear.
Seeing the lack of sensual underwear that offers the perfect anatomical fit in the market, Jose Vargas Snyder launched the famous menswear line, Joe Snyder. With more than 20 years of experience, this Mexican based menswear brand has been revolutionising the men's fashion market with fashion-forward designs, high quality fabric construction and alluring styles. Their collections for men include bikini swimwear, bodysuits, boxer brief underwear, caps, G string swimwear, jockstrap underwear, G string underwear, jockstrap swimwear, long boxer brief underwear, shorts, square cut trunk swimwear, tank top T shirts, thong underwear and swimwear.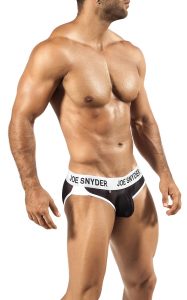 Joe Snyder Active Bikini Underwear is one of the most popular designer bikini underwear that this Mexican brand offers. Designed for fashion-forward men with active lifestyles, this underwear is offered in black, black sheer, red, turquoise, white and white sheer. Made from a top quality polyamide and elastane fabric blend, the underwear is smooth and soft to touch and has a nice glimmer too! Unlike other non-supportive bikini underwear, this Joe Snyder creation offers unparalleled support levels! Exceptionally light and roomy, it keeps your asset in place throughout the whole day, whether you use it for casual or sports activities. Most importantly, the well designed and snug pouch design not only shapes your asset but holds it up too! The broad elastic waistband branded with the Joe Snyder logo ensures your underwear is comfortably fitted to your body and makes sure that it offers attention-grabbing shape retention to you throughout the day.
In spite of the skimpy cut, it provides the necessary coverage and support you need while exuding the feeling of not wearing anything underneath your pants! If you are not afraid of flaunting your chiselled physique in a daring cut, sport this designer outfit now!
Are you looking for affordable Joe Snyder Active Bikini Underwear, log in to our store today! We offer a wide range of menswear, swimwear, loungewear as well as stylish men's underwear at cool discounts!