Trend setting tank top T shirts are every man's favourite casual wear during hot weather conditions. Being the most versatile men's clothing, this type of garment can be worn on the outside as well as under other popular men outfits such as business shirts or polo shirts. The brand that best celebrates the male form through its comfortable yet fashionable designer tank tops is the famous fashion house Aware Soho.
Since its inception in 2001, this London based menswear brand Aware Soho has been gaining widespread international recognition for its fashion forward designs and cuts. Everyone loves the rich cotton, bright colour palette and super creative collections from Olivier Gazay. Worn by many notable fashion designers and A-list celebrities, this leading menswear brand from the United Kingdom is fast becoming the top underwear of choice for many urban men all over the world!
Apart from cool and funky tank top T shirts, the brand also specialises in bikini swimwear, boardshorts beachwear, boxer brief underwear, brief underwear, jockstrap underwear, long sleeved T shirts, pants, short sleeved T shirts, shorts, shorts swimwear, square cut trunk swimwear and sweaters and cardigans for men.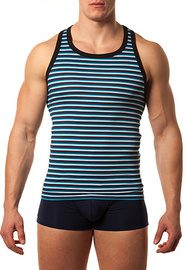 If you are a big fan of tank tops and love to wear the latest in men's fashion, the Aware Soho Stripes Tank Top T Shirt is just right for you! Offered in two cool colour options: pacific blue and red, their tank top T shirt is a retro-striped cotton outfit made for urbane and dynamic men. Composed of 95% cotton and 5% elastane, this men's tank top is incredibly comfortable and highly fashionable. Made from cotton fabrics of the finest quality, the top feels extremely smooth and soft on the skin and provides an airy feeling during your varied casual or sport activities. The use of elastane in the construction of this stylish top makes sure you experience a profile enhancing fit while it remains stretchable without losing form even after wearing it for years!
With a racer back design and contrast binding, you can team it up with your casual pants, jeans or chinos if you want to ooze a carefree attitude. Worn with your favourite pair of funky trainers, this apparel will look cool at the gym as well on the beach!
To get this fashionable tank top or your favourite Aware Soho menswear, just into our store today! We offer all kinds of stylish and branded men's underwear, swimwear and loungewear at some of the world's best prices!