It is indeed tough to choose a pair of breeches for a man. You need to first select a pair that provides immense comfort and also make sure that the pants are quite stylish and trendy to suit the varied styles and tastes of men. Moreover, picking the right colour is also essential. A fashionable man is just not satisfied with any drab and typical colour. He also demands that his pants be funky and able to enhance his sex appeal. While riding motorcycles or bikes, men look for pants that are comfortable and are designed to enable free movement of the legs. Well, one look at Hawg Hides Solid Leather Motorcycle Chaps Pants proves that they are designed to fulfil all these demands – and more!
The Hawg Hides Solid Leather Motorcycle Chaps Pants are crafted from pure leather and the special cut is made to provide utmost comfort. These pants also have a liner of mesh to offer additional comfort to the wearer. Interestingly, these chaps pants have "zip out" lining made of quilted polyester that can be taken out whenever required. So, you can wear these pants even during hot summer months without getting soaked in sweat.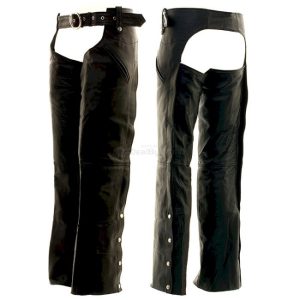 These chaps pants are trimmed with buckle and snaps of stainless steel that looks quite trendy and chic. You can trim the lower panel for a custom fit. These chaps pants are made from pure leather, so they are quite durable and long lasting. Crafted from pure leather, these chaps pants retain their shine, smoothness and style for a long time. Since these chaps are available in different sizes, get your right size now to look sexy and sizzling in your Hawg Hides Solid Leather Motorcycle Chaps Pants! Just team them up with muscle top T shirts, tanks top T shirts or polo shirts and look immensely sexy and cool!
Hawg Hides is a popular brand creating stylish apparel and quality accessories for men. They believe in using pure leather for crafting their apparel, and provide quality leather that is tough and durable.  Made from genuine leather, all of Hawg Hides products are long lasting. Apart from Motorcycle Chaps Pants, they also create other pants, hats, jackets and coats, bags and other accessories for men. A man simply looks ravishing in Hawg Hides apparel!
You can get Hawg Hides Solid Leather Motorcycle Chaps Pants or other Hawg Hides products at DealByEthan. Our site offers nice discounts on various men's underwear, swimwear, men's loungewear and other fashionable and sexy menswear as well.