Some things are better seen and enjoyed in private, but this can be difficult if you're embarrassed to show what you have on underneath your clothes. So, regain your self-confidence and avoid turning your dream girl off after a romantic evening by wearing something from the daring, sizzling hot Eros Veneziani underwear collection at DealByEthan.com.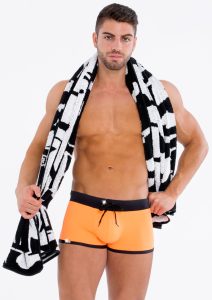 Eros Veneziani is an Italian line of sexy underwear, swimwear and menswear. Every Eros Veneziani garment is guaranteed to have the following features:
Comfort. All items from Eros Veneziani are made of comfortable fabrics, including 100% cotton and silk. Underwear also features comfy straps and supple waistbands. The designers of Eros Veneziani ensure that every item in their collection provides optimum comfort while enhancing your inherent sex appeal.
Style. Every Eros Veneziani garment is carefully designed with a twist of modernity and style. Men have been wearing underwear since time immemorial, but in the past, it was worn for practical reasons. Today, the Eros Veneziani collection will not only cover up your privates, but also make you look trendy and sexy enough to make your wildest fantasies a reality.
Durability. Eros Veneziani products are not only alluring, but are high quality garments that last a lifetime.
Affordability. Quality, comfort and style doesn't have to be expensive. The best thing about Eros Veneziani garments is that you can enjoy them without busting your budget by ordering them at DealByEthan.com, where you receive them at discounted prices. The more garments you buy, the greater your discount.
Where Can You Wear an Eros Veneziani
There is such a wide range of Eros Veneziani garments that you can wear them on a myriad of occasions, including, but not limited to:
an adult costume party, wearing nothing but an Eros Veneziani hat, tie and sexy Eros Veneziani thong.
a walk along the beach in an Eros Veneziani bikini or thong swimsuit to display all your bulges and muscles.
wear an Eros Veneziani G-string to a stag party and make your friend's last night of bachelorhood a memorable one.
Whatever the occasion, confidently display your masculine beauty by wearing a garment from the Eros Veneziani collection at DealByEthan.com.