In the past, men's choices with respect to swimwear were extremely limited, and the styles were boring and tasteless, unlike those of their female counterparts. However, today, this has all changed, and men now have a huge variety of swimwear styles and designs to choose from. Every day, designers are introducing new, innovative designs that range from the bold and sexy to the more reserved and conservative. What's more, the Internet has made purchasing swimwear easier than it has ever been before with online stores such as DealByEthan.com, which offers one of the largest ranges of both men's swimwear and underwear available on the web.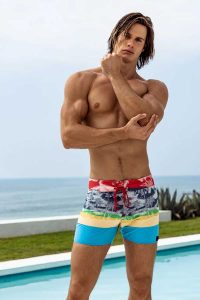 Here are a few tips to help you choose the best swimwear for your body type:
If you have a tall, athletic build, any kind of swimwear will do as long as you choose a shade to match your skin color. Solid shades do wonders for the features, while patterned swimwear de-emphasizes large builds.
Regular, formfitting trunks suit men who are somewhat less tall, but still athletic, or you can go for a bikini with a high cut to make your legs appear longer and a low-cut waist to flaunt your abs.
Loose-fitting shorts are great for the tall and thin men out there. Just be careful not to overdo it!
G-strings are suitable for shows and private events, such as bridal showers or more intimate one-on-one parties.
If you're the shy type and don't want to draw too much attention to yourself, regular trunks or shorts in basic, solid colors or small prints, such as Bermuda shorts, are an optimal choice.
If you are looking for something to enhance your male assets, there are a number of maximizing swimsuits at DealByEthan.com that will definitely improve your self-confidence and sex appeal.
No matter what your preference, you are sure to discover the perfect swimwear style for you at DealByEthan.com!