Whether they are worn as an outerwear or underneath shirts, during hot and humid days, tank top T shirts are the most preferred clothing for men of all ages.  Since tank tops are designed without sleeves, they provide much needed respite and comfort when the temperature rises. Available in varied styles, cuts and colours, they are the trendiest and most versatile among all the casual wear and you can wear them with your running trunks or your beach trunks. The name that comes to mind when one is talking about fashionable and functional tank tops is South African company Bone Wear.
Established more than five years ago, Bone Wear is "South Africa's first international underwear label." This international brand is well known for its top quality and unique collections of men's underwear, athletic wear and swimwear. Designed by the noted South African designer Wilco Stemmett, all Bone Wear outfits are made from locally sourced raw materials of the highest quality and provide unmatched movement and comfort! While they redefine style and sex appeal with a striking colour palette, cuts and styles, their collections will appeal to any fashion forward man. Besides specialising in designer tank top T shirts, the menswear brand also offers bikini swimwear, boxer brief underwear, brief underwear, jock strap underwear, long sleeved T shirts, loose boxer shorts, loungewear, personal care, short sleeved T shirts, shorts, square cut trunk swimwear and towels for men with discerning tastes.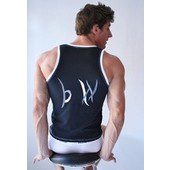 If you want to experience their comfortable designs and form-fitting fabrics first-hand, you must try the Bone Wear Trim Vest Tank Top T Shirt instead of your regular tank tops. Made from quality locally sourced fabrics, this men's tank top provides you with an athletic fit while sculpting your chiselled physique with its unique style! Designed with contrasting trims and the Bone Wear logo prominently displayed on the back, the super light and breathable fabric provides ultimate support and comfort, especially for the athlete. In other words, the soft to touch but stretchy fabric is extremely skin friendly and gives off a light and airy feeling the moment you put it on, making this designer top simply right for all your strenuous activity!
Available in three amazing colour combinations – black/white, white/black and white/olive, the typical round neckline and sleeveless design of this fun and cool Bone Wear Trim Vest Tank Top T Shirt makes it ideal for wearing to the gym, beach or home. Put it on with your chinos, jeans and casual pants to win the admiration and approval of your peers!
Are you planning to give Bone Wear Trim Vest Tank Top T Shirt a try? DealByEthan is the right place to search for different fashionable menswear, men's swimwear, underwear and loungewear at amazing prices!