Nowadays, men's brief underwear is available in many different styles, cuts and colours ranging from the traditional to contemporary bold designs. With such a wide variety to cater to men of varied tastes and preferences, brief underwear is no longer considered an ordinary undergarment but a designer creation that is meant to make a style statement!  If you prefer quality made in Europe products, you will surely love the wide-range of menswear from the globally recognised menswear brand Barcode Berlin.
Manufactured in Germany, Barcode Berlin collection of menswear incorporates designs and styles from all over the world while remaining truly European. Providing a wide range of comfortable and sexy cuts, colours and styles, Barcode Berlin is the world's leading sports and fetish wear designer label. At the same time, this European menswear brand offers modern and modest appealing collections too for satisfying the needs of any man! Apart from brief underwear, the German brand also specialises in bags, beach towels, bikini swimwear, bodysuits, boxer brief underwear, jockstrap underwear, muscle top T shirts, pants, short sleeved shirts, short sleeved T shirts, shorts, shorts swimwear, socks, square cut trunk swimwear, tank top T shirts and sweaters and windbreakers for men.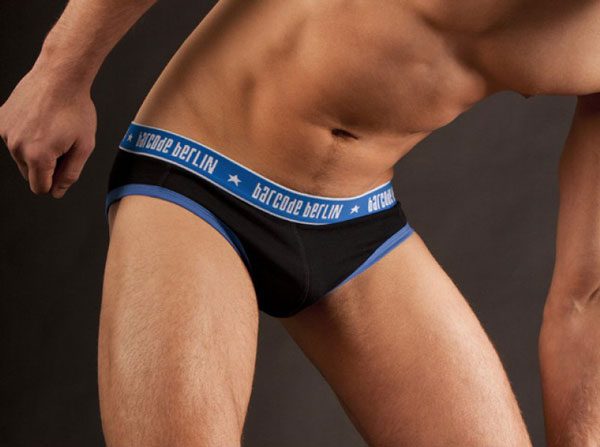 Take time out to check out Barcode Berlin Officer Tyson Brief Underwear which offers a distinctive athletic and masculine appearance to its wearer! The designer underwear is offered in three masculine colour combinations namely black/royal, grey/white and white/royal and showcases a classic low-cut and sporty look. Featuring a clean, simple and modern design and cut, Barcode Berlin Officer Tyson Brief Underwear is not only ideal for a man with an athletic body but for all men who like to look good in their brief underwear!
Made from 95% cotton and 5% elastane, this athletic brief is extremely light in weight yet very supportive and strong. The use of cotton fabric in the making of the brief also offers efficient temperature and moisture control, and keeps you feeling fresh and dry after any rigorous activity! At the same time, while the sporty underwear moulds your body to perfection through its profile enhancing fit and contoured pouch support, the presence of top quality elastane material ensures that the underwear stays stretchable while never losing its shape, thereby remaining brand new all the time! The colour contrasting trim around the leg openings and on the waistband presents a striking, athletic appearance. Along with the soft fabric and wrapped leg openings, the wide elastic waistband bearing the brand's logo also makes sure that you experience complete comfort!
If you want to purchase your very own pair of Barcode Berlin Officer Tyson Brief Underwear, drop into our store any time! You can also indulge yourself in our wide collection of stylish men's underwear, loungewear, swimwear and menswear at great prices!