Bon Bon Bodywear is sizzling, fashionable, hot and is exclusively designed for men who have a great body.  The fabric used for designing Bon Bon Bodywear is stretchy, sexy, and made of fabric which is simply amazingly soft and smooth. If you want your nights to get steamy, hot and full of passion, then grab the Bon Bon Bodywear range of underwear right now! The brand mainly offers two different style of underwear which includes the Boxer brief and brief style of underwear.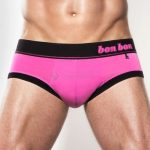 The brand believes in offering superior quality and eco-friendly underwear that looks sensational and luxurious. The brand was incepted in 2009 in Canada and is currently being offered in countries such as Australia, North America and Europe. Those who are leading a very active lifestyle and want to look super sexy and desirable can safely invest in Bon Bon Bodywear. It is for those who seek class and quality in underwear and do not consider underwear as just any other apparel. Bon Bon Bodywear garments have ushered a revolution of their own kind in the mens fashion industry. The brand has created quite a sensation ever since it entered the industry for the first time. The reason why it has been appreciated and admired the world over is simply because it allows men to define themselves and create their own fashion statement.
The company has a simple policy of offering creative and luxurious underwear for men who have immense faith in themselves. Bon Bon Bodywear is not for just any man, it is truly meant for those who seek modern designs and comfortable styles. Every collection launched by the brand so far has been designed keeping the male physique in mind. A wearer can either choose to wear Bon Bon Bodywear designs as daily/regular wear or can opt to don them for special occasions.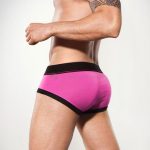 For instance, the Bon Bon Bodywear Colors Brief Underwear is one of the finest creations of the brand. It features a soft and smooth waistband that is never too tight around the wearer's waist. The designers at Bon Bon Bodywear have used some of the most beautiful colors to express their sense of fashion and style in order to design this particular brief. This design is perfect for uplifting your masculine features. Made from fabric which is a blend of 90% Micro Modal and 10% Spandex, this underwear comes with a double layered as well as paneled pouch. It does not have any back or side seams and is extremely soft to touch.
Order Bon Bon Bodywear Colors Brief Underwear and other brands of menswear at our website DealByEthan!