Boxer brief underwear is for fashionable men who favour undergarments that provide complete coverage on the backside while providing a form-enhancing fit. This type of underwear style is not only great for men with an athletic build but for all physical builds. There are boxer briefs in varied exciting patterns, colours, leg lengths and styles to choose from, whether you are looking for athletic wear or everyday wear. The most trusted brand for fashionable but comfortable boxer briefs is Australia based Grundies.
In the Australian men's fashion market, Grundies is regarded as one of the fastest -selling brands. With over 20 years of experience, the designers at Grundies know what looks good on the male form. Derived from the Australian rhyming jargon "Reg Grundies" to mean underpants, the brand's creations features iconic images like the Australian flag, Southern Cross, and a variety of cheeky prints! Their collections are most sought after by fashionable men all over the world because of their interesting underwear styles, attention to detail, excellent fits and clean lines. Besides specialising in creating functional and stylish boxer brief underwear, the brand also offers well-constructed brief underwear for men.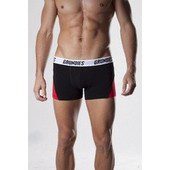 To experience superior fit and comfort all day long, give your old and saggy boxer brief a miss and try Grundies Active Boxer Brief Underwear instead! Offered in four stunning colour combinations of black/red, black/white, black/yellow and blue/white, this boxer brief is perfect for sports, gym and everyday wear. Made using a blend of cotton and elastane fabric, it comes with quality stitching on both the inside and outside which keeps it from ripping and ensures that you have longer lasting underwear. The soft and supple cotton fabric is extremely skin-friendly and allows your skin to breathe freely whether you are wearing it at home or to the gym. The use of elastane provides a tight fit while sculpting your body to perfection and makes sure your boxer brief stays snugly on your hips.
Designed with a side panel in contrasting colour, the Grundies Active Boxer Brief Underwear flatters the male form with its profile enhancing design as well as well-constructed pouch support that provides comfort while accentuating your assets. Along with the spacious pouch, the wide elastic waistband (featuring the trademark logo of Grundies) ensures all day support.
If you are looking for Grundies Active Boxer Brief Underwear, DealByEthan offers the entire range of Grundies outfits and various other menswear, swimwear, loungewear as well as over 500+ brands of men clothing at amazing prices!