What do you look for after coming out of a pool with water-droplets clinging to your body? Obviously, you look for your soft bathrobe that can soak up all the water, drying your body completely! A soft and breathable bathrobe is the perfect apparel to slip in after a splashing and rejuvenating bath. Of course, a trendy bathrobe can make a nice gift item too. Men, especially fashion conscious men, are always on the lookout for plush bathrobes that they could use to wrap their bodies after a bath.  Well, you can expect doting glances from people at the pool when you come out of the water and slip into a trendy bathrobe!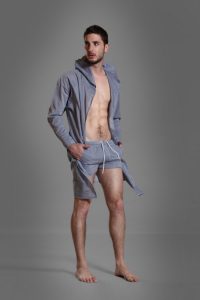 To look sizzling you definitely need to pick a bathrobe from a good brand. Both design and quality matter when you think of purchasing bathrobes. Some brands offer trendy loungewear to men, but their products are made from poor quality fabrics and do not last long. However, one brand that ensures both style and quality is BUNS. A popular brand, BUNS strives to create the most stylish and chic outfits for men. BUNS products can be worn all year round. Men who want to enjoy optimum comfort throughout the day should surely look for BUNS outfits. The designers at BUNS believe in using premium materials for creating their menswear. Apart from loungewear, BUNS also manufactures pants, short sleeved T shirts, shorts, sweaters and windbreakers for men.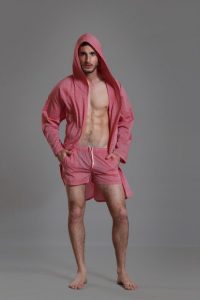 If you want to expose your drenched and toned body after a bath, then try some BUNS Bathing Wrap Long Cap Bathrobes. Crafted from breathable chambray fabric (consisting 100% cotton), this bathing wrap is truly comfortable. This type of fabric wicks away moisture, drying your drenched body completely. Soft and breathable, the bathrobe made from chambray fabric will keep you comfortable in any season. On hot and humid days, just wrap your body with this bathrobe and relax comfortably on your lounge chair. The semi-translucent bathrobe makes the curves of your body excessively prominent. This bathrobe is designed with a cap and comes with a pair of boxer shorts. The pair of boxer shorts is provided with drawstrings. You can adjust the pair of shorts with the help of these drawstrings.  Apart from red, the chic Buns Bathing Wrap Long Cap Bathrobes is also offered in light blue colour.
Are you eager to get some Buns Bathing Wrap Long Cap Bathrobes for yourself or for gifting purposes? Just visit DealByEthan to find this bathing wrap as well as other types of loungewear, swimwear and men's underwear at reasonable prices!