It is interesting to see how men's swimwear designs have undergone rapid changes in the last few decades. The one-time plain and boring swimsuits have become quite stylish and trendy these days. Apart from typical square cut trunk swimwear, jammer swimwear and broad-shorts beachwear, you will come across more provocative and bold designs in the market. Today's fashion conscious man is eager to reveal his well exercised physique at the beach or pool, and often looks for some sporty and bold swimwear that will be ideal for exposing his tanned physique. When fashionable men were desperately looking for attractive and bold swimwear styles ace designers, from around the world, came up with some voguish bikini swimwear, jockstrap swimwear, pouch swimwear, thong swimwear and G string swimwear for men.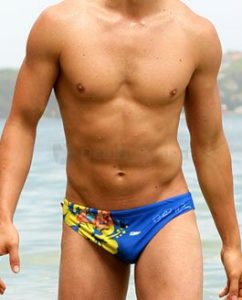 Among these varied styles in swimwear, bikini swimwear is immensely popular among men because it truly helps in accentuating the toned physique. Whether you are swimming or indulging in some beach sports, revealing and stylish bikini swimwear always keep you comfortable. Several brands have taken a lead in creating sexy bikini swimwear for men. But, Oz Factor is one brand that has successfully captured the spirit of beach culture with its swimwear line.  A popular brand from Australia, Oz Factor has been designing sexy, sporty and stylish swimsuits for men since its inception. Their designer Nadiah Kanawaty believes in using premium Italian fabrics for creating Oz Factor men's swimwear. These fabrics are specially treated to provide protection against harmful sunrays and chlorine.  Besides bikini swimwear, Oz Factor also designs square cut trunk swimwear for men.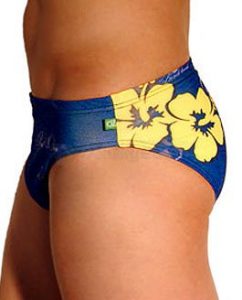 Grab some OZ Factor Drawstring Waist Brief Bikini Swimwear if you want to express your masculinity in the most daring way! Made from premium lycra, the OZ Factor Drawstring Waist Brief Bikini Swimwear is stretchable and keeps the wearer in optimum comfort while swimming or sun bathing. To ensure extra support and a proper fit, this pair of bikini swimwear is provided with an internal drawstring. Unlike string bikinis, the OZ Factor Drawstring Waist Brief Bikini Swimwear has 2 inch sides to give support and comfort.  The front of this bikini swimsuit is lined with pure nylon and its contoured pouch provides support to your package. The eye catching bondi blue colour of this swimwear with yellow floral patterns on it can make you look truly alluring at the beach or pool.
To procure some OZ Factor Drawstring Waist Brief Bikini Swimwear or men's underwear, loungewear and other trendy menswear at affordable rates, visit DealByEthan.