The year 1973 in the beautiful city of Barcelona Giulio underwear brand had set its flags. A group of experts and professionals belonging from the textile industry set the company up. With strong commitment and high hopes, the brand started distributing its products throughout Spain, and slowly within some time it succeeded in building up a reputation for itself in the market for its unique take on men's underwear styles.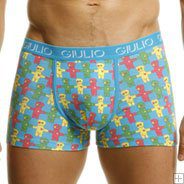 The vast range of products and clothing items manufactured by Giulio includes brief underwear, boxer brief underwear, thong underwear, square cut trunk swimwear, short sleeved t shirt, etc. All of their apparel is available in many varieties of prints and colours.
Boxer brief underwear from Giulio is made of different mixes- one a mix of 10% spandex and 90% nylon and another a blend of 6% elastane and 94% cotton. Both the blends are perfectly comfortable for all day wear even when you are undergoing strenuous physical activities! The underwear is stretchable and the waistband is in contrast colours with the logo around it.
The brief underwear is made of a blend of 6% elastane and 94% cotton and the prints are varied, ranging from fun and in your face patterns to subtle and theme based ones. The binding is contrasting with the logo of the brand on the waistband.
Giulio's square cut trunk swimwear is available in a range of prints. There are fun and bold prints that are perfect for a day at the beach or poolside. There are prints that totally reflect the tropical aspect and have nature and its many colours as its source of inspiration. For those who like to appear a bit subtle, there is swimwear that is available in mono colours or in subtle prints that attract more attention because of their subtlety and difference. The material used is a blend of 20% elastane and 80% polyamide nylon.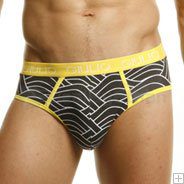 The thong underwear of Giulio is one of a kind, with engineering that is aimed at providing you with the best support as well as enhancement. It is available in a number of different colours and prints to suit your needs and requirements.
For a detailed look at the entire Giulio collection of men's underwear visit us at Deal by Ethan today and get great offers and discounts on each purchase.