If you want clean and classy menswear that is no frills and comfortable then KLeN is the one brand that you trust. The menswear manufactured by the brand is not clean but stylish and comfortable as well. The materials used are eco friendly and the company takes special care and attention towards getting you products that in no way harm the environment. Besides being eco friendly, these materials and fabrics are endowed with other special qualities like thermal regulation and a naturally antibacterial coating.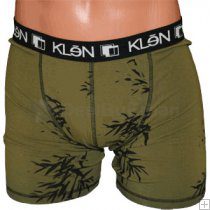 KLeN menswear manufactures a range of apparels like short sleeved t shirts, brief underwear, boxer brief underwear, socks, etc. The material used for their apparel is not extra soft and comfortable but moisture wicking and UV resisting as well!
The boxer brief underwear of KLeN is made of a fabric that is a blend of 5% spandex, 27% organic cotton and 68% bamboo. The print is dye injected and colours that are mostly preferred by the brand are earthy colours like green, brown, grey, white and black. Apart from mono colour prints, there are prints like broken hearts, bamboo leaves, etc. as well. The waistband of the underwear has the logo of the brand all around it and is extremely soft as well.
Their short T shirts are available in two kinds of necks- crew or round neck and v necks. The mix of the material is same as that of the other kinds of apparels used. The fit is light and not too figure hugging and tight. The front hem has a tag which is woven with the logo. The shoulder seams are stitched with contrast flatlock. The material is extremely soft and comfortable to be worn all day long.
KLeN socks are made of a mix of 5% nylon, 10% elastane and 85% bamboo. The footbed has been reinforced with terry, which adds to the comfort. The length of the socks depends on size, and you can choose which length is suitable for you. All of the variations of KLeN socks have the logo of the brand and are available in a variety of colours and prints. If you want sober socks, then go for the socks that have subtle prints in subtle colours, but for a lasting impression pick the bright patterned ones.
Visit us at Deal by Ethan today to take a look at the entire range of KLeN menswear and also get assured discounts and offers on them! Hurry!!