Pure seduction can only be represented by one brand and that is La Finesse! The label which stands for sexy underwear, manufactures high quality items that are sure to arouse the senses and fire up your imagination! Their designers are creative and their creations innovative to say the least. The German company, ever since its inception, has been wowing the fashion industry with its dare and uniqueness. The designs are distinctive and accents and use of colours sensual.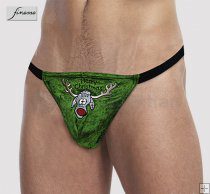 La Finesse manufactures various items of clothing like g strings underwear, boxer brief underwear, thong underwear, jock strap underwear, tank top t shirts, short sleeved t shirts, etc.
In their boxer brief underwear style, there are options like wonder hipster, press stud wet look net and strap panel sheer. The first one has a lifting seam, giving a push up effect and creates a good bulge. The material used is a mix of 10% spandex and 90% polyester. For the strap panel sheer, the material used is a blend of 10% spandex, 40% polyester and 50% polyamide. The design is one of a kind and quite bold. Narrow straps are inserted laterally into the underwear whose base features a power net material. The material used for their press stud wetlook net underwear consists of 10% spandex, 20% polyester and 70% polyamide.
The g string underwear of La Finesse is available in a range of creative and fun designs. The material used is 100% polyester. The pouch at the front is home to many interesting and fun designs. The waist consists of strings made of rubber. The designs and patterns of the pouch include elephant, moose wishing merry Christmas, reindeer, etc.
La Finesse produces jock strap underwear that is not only fully functional but sexy and stylish as well! The material used is a blend of 10% spandex and 90% polyester. The softness and comfort of the underwear is unparalleled and can be worn all day! The stretchability and elasticity is great and the material stimulates great air flow so that sweat evaporates very quickly, reducing your discomfort on a hot summer's day. The underwear is available striped with two stripes in a colour like silver right on the waistband.
Take a look at the entire collection of La Finesse underwear to make a better informed decision on which one you want to buy. Visit us at Deal by Ethan and get great deals and offers on La Finesse today!