Men who prefer a skimpy design and snug fit for their underwear always consider bikini underwear to be the most suitable option. Unlike traditional boxers and briefs, bikini underwear is liked by those men who want to try something unconventional. The design allows you to wear this underwear under any outfit and the waist strap provides added support. Moreover, bikini underwear is provided with a roomy pouch that gives adequate support to your package. Nowadays different brands, finding bikini underwear in great demand are manufacturing various stylish and trendy styles of men's bikini underwear. Among the different brands, Amat is one such brand that creates some exclusive bikini underwear which is quite popular among men.
Originating in Bangkok, Amat is a leading brand creating different fashionable menswear. Started by ace photographer and designer Amat, this line of produces trendy mens apparel like boxer brief underwear, brief underwear, G string underwear, jock strap underwear, bikini underwear, loose boxer shorts underwear, long underwear pants, bikini swimwear, square cut trunk swimwear, pants, tank top T shirts, short sleeved T shirts, etc. Crafted from premium fabrics and designed to suit any manly, muscular physique, Amat products are liked by men a lot. Men who prefer to pick soft and comfortable yet excessively modish underwear always prefers Amat above all brands.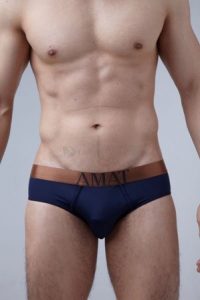 A momentary glance at Amat TacTel Copper Bikini Underwear gives you the clear reason behind the popularity of this brand. This bikini underwear is created from a material called Tactel Lycra. Research has proven this particular material to be excessively soft and breathable, perfect for creating soft bikini underwear. Though soft, underwear created from Tactel Lycra is durable and long lasting. Moreover, the fabric can dry up eight times faster than cotton, keeping you dry and comfortable all the time. Besides its high quality fabric, the broad waist copper coloured waist strap is one of its main attractions. The brand name is labelled on this waist strap and you can also reveal the waist strap from under your pants if you like. Trendy and chic, this bikini underwear is enough to make you look ravishing!
You can grab the Amat TacTel Copper Bikini Underwear at our website DealByEthan, which offers great discounts on various fashionable mens apparel.