The needs and requirements of men vary a lot. So, it is not mandatory that underwear liked by one man will be popular among others. Focussing on this problem, designers in recent times have been creating a variety of underwear designs that all men will like. Apart from traditional boxers, briefs and boxer brief underwear, we can come across other styles in men's underwear like jockstrap underwear, G-string underwear, thongs underwear, bikini underwear, loincloth underwear, etc. Even ordinary briefs and boxer briefs have evolved a lot and have become more stylish and trendier.
Different brands who were manufacturing briefs and boxer briefs realized that the time had come to make their underwear exclusive and modish. Among the popular brands, Plastik, a well-known brand from Australia, has lived up to the expectations of men. Although brief underwear has been in fashion for a long time, earlier it was only available in typically plain shades. However, designers of Plastik took the initiative to make this underwear sexier and trendier so that men would fall for it instantly. Brief underwear created by Plastik is made from high quality fabrics and the design ensures maximum comfort to the wearer. Moreover, the underwear is provided with a spacious pouch that provides adequate support and enhancement to your package.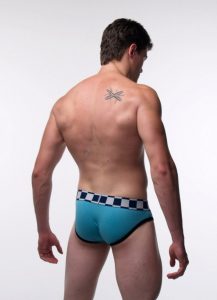 Look at Plastik Clothing Enforces Brief Underwear! A perfect combination of comfort and style, this brief underwear is quite popular among men. The fabric that is used for creating this underwear consists of bamboo fibre and spandex. Being soft and skin-friendly, bamboo fibre ensures softness and utmost comfort. Spandex helps to retain the elasticity and stretchability of this underwear. An eye-catching waist strap with the brand name is indeed appealing. Instead of typical colours, this brief underwear is available in vibrant colour combinations.
You can find Plastik Clothing Enforces Brief Underwear at our website DealByEthan. Our site offers great discounts on men's underwear, men's loungewear, swimwear and other fashionable menswear as well.