If you are an athletic person and love to indulge in frequent fitness sessions, then nothing can be better than a SCORE T Shirts Tank Top. Designed to suit your sculpted physique, this is one outfit that simply elevates your comfort level during those rigorous workout sessions. When you indulge in your workout session, you surely prefer an outfit that is created from soft and breathable fabric, so that the fabric will be able to absorb all the moisture when you sweat profusely, keeping you comfortable. Your SCORE Tank Top T Shirt can live up to this expectation. It is made from pure cotton, which being soft and skin-friendly only elevates your comfort level.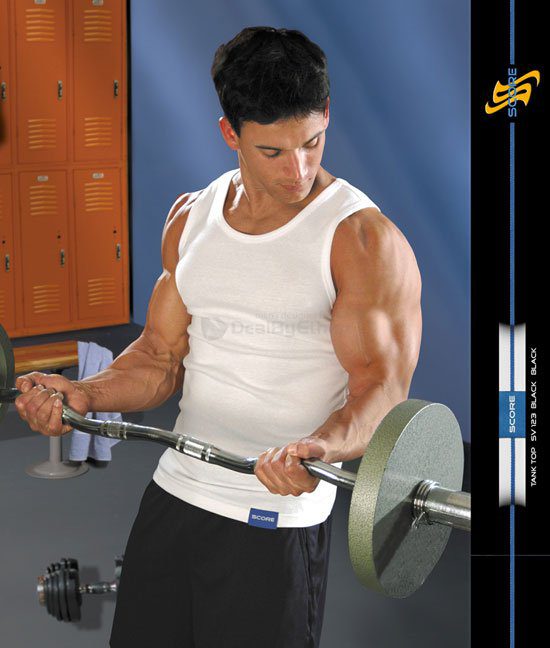 Neither too loose nor too tight, this tank top T shirt ensures perfect fit and tightness. The sleeveless design along with its rounded neck-line allows you to flaunt your well-toned body and shapely biceps. Interestingly, the design ensures that you can wear this tank top T shirt even for casual parties or other occasions. The soothing white color goes with any colored casual pants or jeans. This tank top T shirt is available in three different sizes- small, medium and large. So, pick your size and just flaunt your body in SCORE Tank Top T Shirt!
SCORE is a well-known brand from USA. Since its inception this brand has been creating some stylish and trendy menswear. Instead of creating flashy and funky designs, SCORE emphasises on traditional styling and their outfits provide utmost comfort to the wearer. Besides tank top T Shirts, SCORE produces other mens apparel like short sleeved T shirts, muscle top T shirts, boxer brief underwear, brief underwear, bikini underwear, thong underwear, etc.
Are you eager to get your SCORE Tank Top T Shirt? Well, visit our site DealByEthan today! Our site offers amazing discounts on men's underwear, men's loungewear, swimwear and other men's outfits.