LASC or LA Sporting Club is one of those names that are known for the best sportswear and swimwear for their athletic and sporty designs. Although catering to sporty crowds, their designs are contemporary and stylish at the same time, and not at all boring as some people may think!
The founding stone of the company was laid in the year 1983 by Michael McGinley, Alfredo Izaguirre and Don Zudiema. The year 1987 saw the totally private label being actually launched, and later on the brand slowly spread its wings and took off on its own. The range of garments and apparel are varied and their range of underwear and swimwear deserves special mention.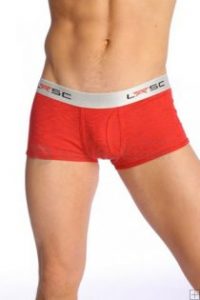 The boardshorts swimwear of LASC is made of 100% micro polyester and comes to 21 inches in total length. There is a brief liner in the swimwear which has drawstrings that help adjust and make them suitable for wearing by a person of any size. The details and construction are exquisite.
The boxer brief underwear of LASC is available in a variety of colours. The material used is 100% rayon and is ultra soft and comfortable.
The brief underwear manufactured by LASC is made of a mix of 40% cotton and 60% polyester which give you a great fit. There are several types available and you can take your pick from the solid coloured brief underwear and camouflage printed brief underwear.
Their LA Sporting Club shorts swimwear is one of those swimwear which will make you appear covered but stylish and uber cool all the same time. It is made of 100% nylon which is extremely lightweight. There is self interior liner and the nylon is quick drying which makes for great swimwear to be worn at any time of the day. You can wear them and be assured that all the sweat or pool water will be evaporated quickly and your soggy swimsuit will not play a spoilsport in your fun!
The square cut trunk swimwear is for those males who love to flaunt themselves and their stylishness and confidence as well. The cut and texture of the swimwear is superb and it is available in a variety of bold and vivid colours that is sure to make heads turn.
LASC also manufactures other men's apparel like pants, short sleeved t shirts and tank top t shirts. So do not waste any time in becoming special and grab LASC products now from Deal by Ethan today!!