In the year 2005 a revolution in mens underwear was launched in Miami – Funky Urban came into being! The clothing brand is truly revolutionary in the sense that it creates a fine balance between funky and urban sophistication. All of the clothing by the brand is a wonderful amalgamation of the features and things that offer the best of both sides. The style statement of the brand transcends all barriers that fashion imposes – the fact that some things always go out of fashion. However, with Funky Urban, you can be assured that their styles will never go out of fashion as they are evergreen!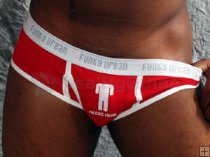 The designs of the brand are totally cool and innovative to say the least. Their innovation is even reflected in the names of the collections that they have and produce. The motto of Funky Urban is to make apparel that is actually a reflection of the personalities of their clients and wearers. The brand has managed to create not only a name but also establish a reputation for itself in the silk screening industry by dint of the fine and superior range of clothing items they produce. Their designs and colours are sure to appeal to all tastes and uplift any mood.
Funky Urban manufactures a variety of menswear like t shirts, trucker hats, tank t shirts, beanies and caps, funky bags, front zip sweaters of cotton, sexy men's underwear. Amongst these, the article that is most popular and in discussion here is the brief underwear made by Funky Urban.
Funky Urban brief underwear is available in many varieties and each collection is uniquely named! Funky Urban brief underwear boasts of names like let's do, needs head, duck my head, eat me, get down and porn star.
The brief underwear of the brand is available in some basic colours like light blue, black, white and red. Their men's underwear has contrast binding and the logo of the brand appears all round the waistband. The material used for the brief underwear is a blend of 3% spandex and 97% cotton. The styles of Funky Urban brief underwear are clearly meant for those who not only love to be provocative but appreciate humour as well.
Deal by Ethan has all the various kinds of Funky Urban brief underwear, and what's more! We also offer you great deals and discounts on them. So rush online today!