The Canadian brand of men's clothing Gregg Homme is one of those brands that is unique in appeal and popularity. The brand is no doubt popular amongst people from across the globe, and the brand has been keeping and maintaining the same popularity despite stiff competition.
This brand of men's underwear manufactures a variety of clothing for men like boxer brief underwear, bikini swimwear, brief underwear, jock strap underwear and swimwear, g string underwear, long boxer brief underwear, loose boxer shorts underwear, loungewear, long sleeved t shirts, muscle top t shirts, short sleeved t shirts, pants, tank top t shirts, square cut trunk swimwear, thong underwear, etc.
Bikini swimwear made by Gregg Homme is available in not only normal styles but also in totally innovative styles like Tsunami. The latter is unique in its sexy cut-out back and sides. The straps and the underwear have been riveted and laced. The front has drawstrings and the material used is a blend of 20% elastane and 80% nylon.
Boxer brief underwear from Gregg Homme is available in a range and variety of more than 50 styles that you choose from according to your preference and taste. The collections are varied like Boytoy, Glam, Afterhour, Fuel, Weapon, Provoke, Volumator, Virgin, Torrid, Pump Up, Commando, Bandito, Predator, Hercules, Amazon, X-Rated, Fuzion, Blue Leopard, Capture, Octane, Cruise, Satin Knit, Mystere, etc. Each of their styles is different and individualistic. As a result, the materials and fabrics used are many and varied with various fabrics mixed in different proportions to create the perfect material.
Gregg Homme brief underwear is available is more than 60 variants. Some of the names of the collections of Active, Boytoy, Weapon, Glam, Afterhour, Fule, Virgin, Forbidden, Pump Up, etc. There is a collection called FUZION is dual layered with Tanga style underneath a plain see through brief.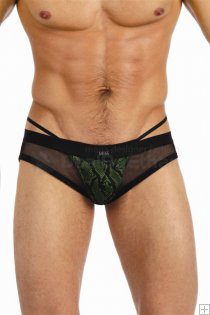 Gregg Homme G string underwear is available in a variety of more than 25 types. There may be variations in cuts, colours and patterns, but one thing that remains the same is the support that each offers to the wearer.
Thong underwear made by Gregg Homme can be got in more than 65 variants and boasts of a variety of colours, textures and prints. You can also make your choice among the jock strap variety of men's underwear which has more than 30 varieties.
Visit DealbyEthan and take a look at Gregg Homme underwear to get attractive deals and discounts today!