Bum Chums is one brand of underwear that has risen up in defence of male physique all round the world. Bum Chums believes that the male physique, especially the rear part has not been treated well by ordinary men's underwear from various underwear brands. So, the English brand has taken the initiative of producing men's underwear that actually flatters and portrays the male bum in the best possible way.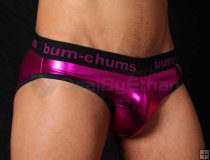 The designs of Bum Chums underwear are funky, fun and bright with only the best quality of materials used. The use of colours is vivid and bright, which further adds to the fun factor of Bum Chums underwear.
The various styles of men's underwear produced by Bum Chums include boxer brief underwear, bikini swimwear, jock strap underwear, brief underwear, thong underwear, etc.
The bikini swimwear range of Bum Chums is called fruity due to the variety of fruity, fun and vibrant colours that they are available in. You can get bikini swimwear in colours like cheeky cherry, lemon lush, blue berry, pink peaches and purple plum and the colours are as fun as they sound! The material sued for the swimwear is a mix of lycra and nylon and is completely chlorine safe.
Boxer brief underwear made by Bum Chums is also available in a variety of patterns, styles, textures and colours. The material used for the normal matte affect men's underwear is a mix of lycra and polyester. There is the shiny and glossy variety which uses liquid metallic lycra which adds a futuristic look and feel to the garment.
Their brief underwear also boasts of a large number of varieties in many departments. The shape, cut and style is aimed to enhance and highlight the rear part. Apart from the usual style there is also their metallic shiny brief underwear which looks and feels great.
Bum Chums does not forget to be its funky and fun self when manufacturing their jock strap style of sexy men's underwear. You can get these with a base of cotton which adds to the comfort factor.
Apart from the variety of colours and prints of Bum Chums thong underwear, one style that stands out is their sneak peek thong underwear, which is exactly what the name suggests!
Visit Deal by Ethan today to take a close look at the entire range of Bum Chums underwear.