Men of recent times want to look as good inside as they look outside, and for this they want the best looking and attractive men's underwear so they can look great inside out. This move inspires confidence in all kinds of men. For those who want to look as good inside as they do outside, Groovin underwear has the perfect answer and solution to your problems!
Groovin underwear follows the principle that the looks and attractiveness of a man are not merely restricted to what appears outside or what he wears outside, but it also lies in the things that he wears underneath his clothes as well. The brand thinks that a man is wild, inhibited and untamed and their underwear should be a reflection of this mentality. The main feature of the men's underwear produced by this brand is the use of minimalistic designs with the best quality materials. Groovin underwear manufactures a variety of styles of men's underwear like boxer brief underwear, bikini underwear, g string underwear, brief underwear, thong underwear, jock strap underwear, etc.
Bikini underwear made by Groovin is available in a variety of cuts and styles to appeal to the tastes of all kinds of people. There are varieties like string bikini, mesh, v cut, thong brief, etc. Besides mesh, other fabrics used in the material of their underwear includes lycra and nylon.
Boxer brief underwear of Groovin has choices galore in not only styles and cuts, but also in colours as well. The fabric used is a blend of 8% lycra and 92% nylon and is not just stretchable but extremely light weight too!
Groovin's brief underwear is available in many various colours and is low waist. The cup design of the underwear gives superior comfort, which gets a boost with the material which is a mix of 8% lycra and 92% nylon.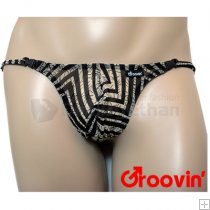 G string underwear by Groovin is made of mesh, and as a result quite see through and totally breathable. The mesh is 100% nylon, and the design totally sexy and fun. The size can be adjusted according to the fit of the wearer.
Jock strap underwear by Groovin is made of fabric that is a mix of 8% lycra and 92% nylon and is available in many colours – whether bright or subtle.
For a closer look as well as great discounts on Groovin underwear visit us at Deal by Ethan today! Hurry!!