Punto Blanco brand of menswear has impressed millions of men across the world. The brand is owned and manufactured by the Valls group, which is also the owner of a graphic designing company. This clearly explains their love for designing, which is why the one who opts for this brand gets to wear cuts and patterns that are truly unique and inspiring. It has been more than 100 years now and the brand is still serving men across the globe with the same amount of honesty, hard work and dedication.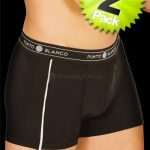 The Punto Blanco range of underwear is a mix and match of unique color combinations, exotic designs, innovative patterns and finest quality fabric. The good thing about this brand is that it never really runs out of creative ideas, which is why the wearer gets to experience cuts and patterns that are delighting and marvellous, both at the same time. If you don't believe us, then you can always check out the hip hop boxer range of underwear launched by Punto Blanco. It is elegant, comfortable and sophisticated all at the same time and ensures that the wearer feels great in it. Those who do not believe in revealing their masculine features too much and yet look bold and tough would love this particular design from Punto Blanco for sure.
The makers of Punto Blanco also own a factory, where they manufacture fabric to design their tempting underwear collection. It is at this factory that experts and scientists come together to manufacture fabric of the highest quality so that the wearer gets to experience material that is of the finest quality and class. What may be really interesting for you though is the fact that their constant endeavour at manufacturing good quality fabric has also won them a reward, the Meryl Prize. Punto Blanco won this award in the year 2001 for manufacturing best fabric in Venice, Italy.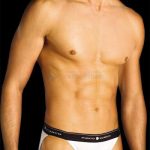 The brand being discussed here is the Punto Blanco Basix Bikini Underwear. Made from the best quality fabric, this particular design is modern and elegant. It is crafted using 93% cotton and 7% Elastene and features a flat seam so that the wearer feels absolutely comfortable in it. Its pouch style is also unique and is 100% cotton lined. Available in different sizes and colors such as Yellow, Light Blue, Black, white and coral, the Basix Bikini is for the men who is daring, bold and sexy.
You can place your order for Punto Blanco Basix Bikini and other brands of underwear at our site Dealbyethan and avail exciting offers and discounts!