C-IN2 has given men the independence that they seek when it comes to selecting the right kind of underwear for themselves. C-IN2 knows how to give men the best futuristic underwear. Their designs are never typical and boring. So if you are the kind of person who admire simple looking briefs, C-IN2 is not your brand.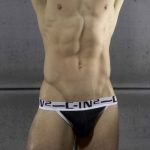 The brand is the brainchild of Gregory Sovell, who believes in creating designs at par excellence and path breaking. The difference between Sovell and others is that while others don't mind repeating themselves, Sovell does not believe in introducing the same line of underwear again and again. Sovell has a creative bent of mind and none of his designed underwear is launched for the sake of it. Each of Sovell's designs is fashionable and fit perfectly well.
The idea of designing great looking underwear came to Sovell when he realized that men also want to look good when they choose to undress themselves. That thought was enough to spark the idea of creating exotic and hot looking underwear using fabric of the highest quality with help from advanced technology.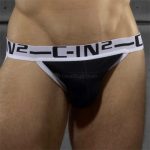 The whole idea behind's Sovell's line of underwear is to make men look exceptional and feel great. He designs the entire underwear line with complete freedom and expects men to select their favourite underwear with the same amount of freedom as well. His designs include everything from Contour Pouches, Sling Support to classic cuts. In a nutshell, there is something for everyone and all you need to do is to make a careful choice.
You can pick traditional and yet innovative briefs, athletic low-rise trunks, or even the package enhancing underwear. Apart from their underwear line, C-IN2 also designs long sleeved T Shirts, muscle Top T Shirts, short sleeved T Shirts and tank top T-Shirts. The product being discussed here is C-IN2 Bamboo Jock Strap Underwear. C-IN2 has done everything to make this product look and feel different. Crafted from fabric, which is essentially a combination of 69% Bamboo, 2% Spandex and 29% cotton, this hot and seductive looking jockstrap is every inch what a man with the right kind of physique desires. Right from the waistband size and material to the entire cut and pattern of the fabric is exceptional.
You can place your order for C-IN2 Bamboo Jock strap underwear and other brands of underwear at our website DealbyEthan that offers great and exciting discounts and offers!