If you are fit and if you are the kind of person who likes to stay active throughout the day, then you will definitely admire Whittall & Shon. Though the brand is more popular for the wide variety and styles of hat that they offer, their mens underwear range is gradually becoming popular too. The manner in which the brand was incepted is an interesting story in itself. Eliot Whittall, who is the chief designer at Whittall & Shon, got the inspiration to set up his own businesses and brand while doing his project at school.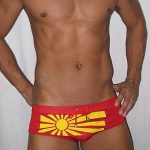 The project was giving the participants an opportunity to create something exciting with unused art material. In turn, the winner could make some money. This is what inspired Whittall to design hats using fabric, stones and some other unused art materials. Eliot learnt designing at Rhode Island School of Design Graduate. The hats designed by Eliot were picked up by stores such as that of Bergdorf Goodman and Saks Fifth Avenue.
Today, the brand is also renowned for its t-shirts, microfiber swimwear and loungewear. The other types of clothing manufactured by them includes Bikini Swimwear, Bikini Underwear, Boxer Brief Underwear, Brief Underwear, G String Underwear, Shon Short Sleeved T Shirts, Shorts, Square Cut Trunk Swimwear, Tank Top T Shirts and Thong Swimwear.
When it comes to T-shirts, Whittall & Shon's collection can match and at times surpass the other brands, for they are soft, body hugging and crafted using the best colors. The Whittall & Shon Athletic Contrast shirts are simply impressive. These V-neck shirts are really sporty and come with contrast piping all along the neck as well as arms. The sleeves have double stripes on them and you can easily wear them to the gym. Whittall & Shon brand offers some of the most creative designs and great color combinations. Whether it is underwear, swimwear or any other line of menswear, you can grab your favorite design and color, depending upon your mood. Their mesh collection is simply splendid. Crafted using 100% polyester it consists of some of the finest pants and shorts and remarkable in every sense.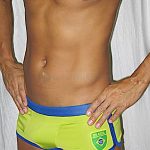 The product being discussed here is Whittall & Shon Retro Shorts Brazil Patch. This square cut retro running shorts is best for athletes. It comes with contrast color waistband and a beautiful binding. Its sides are curvy and it features a Brazilian patch on the left leg. It is made of 95% Microfiber and 5% Lycra.
You can place your order for Whittall & Shon Retro Shorts Brazil Patch on our website DealByEthan that offers exciting discounts!