If you are the sort of person who would love to slip into funky, juicy and sexy looking underwear, then Little Boy Blue range of menswear is what you should look for! The sole of the brand was to provide men with different taste, something really different. Thanks to the brand's motto, men can now have what they really want-inspiring and alluring designs that have the power to make you feel special and comfortable, all the while and no matter where you go.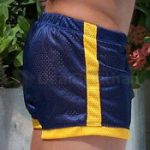 It is no for the dull-minded guy who has no charm left in his life. It is only for the passionate man who loves to don exciting sportwear, swimwear, gymwear, club wear and of course, underwear too! Apart from this, they also design and manufacture, Short Sleeved T Shirts, Shorts and Tank Top T Shirts for men.
It is sexy, stylish and adorable from every angle. Little Boy Blue can inspire you and leave you besotted, for it has been designed to provide you extreme comfort and style. Whether you are merely relaxing at home or even when you choose to wear Little Boy Blue underwear underneath your pair of jeans, you will feel absolutely great in it. The beauty of Little Boy Blue range of menswear lies in the choice of fabric and the design, which enhances your masculine looks and features.
Little Boy Blue is really innovative. In fact when the wearer dons Little Boy Blue underwear, they will find it very hard to ignore the pouch style, for it is very sexy, breathable and admirable all at the same time. The cuts and patterns are different, especially that of the bikini swimwear, which will enhance the wearers experience.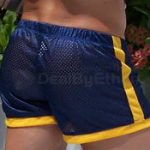 Moving on to the waistband style, it is very soft and stretches easily and at the same time ensures that it never feels too tight around your waist. The pouch of the underwear provides enough room so that you can keep the squashed feeling at bay. The product being discussed here is Little Boy Blue Design Dan Shorts. Extremely comfortable and crafted from soft and superior fabric, this particular design has everything in it that will make you feel completely at ease. The fabric used for crafting the shorts is nylon mesh and the waistband is made of elastic.
You can search and order for a wide range of Little Boy Blue menswear at our website DealByEthan that provides great discounts and offers!