MaleBasic Lingerie is one brand that is synonymous with their distinctive style of male underwear that is aimed to arouse the senses with their erotic appeal. Their range of sexy men's underwear is all that you need and more!
The sexy fashion underwear brand was born in 2002. Their headquarters is located in sunny Miami, Florida. The present president of the company is Paula Zuniga and the aim and motto of the company is to produce underwear that all males would be confident in wearing. The underwear made by the company is a reflection a true bold man that is inside every male. A hint of eroticism is what sets the underwear of the brand apart from the others.
The bikini underwear designed by MaleBasic Lingerie is available in unique styles.  There is the MaleBasic Lingerie crossed back bikini underwear which has its back covered fully, but with a criss cross design. There is a contour pouch enhancement feature added as well. The fabric is a mix of 85% nylon and 15% spandex, which is see through and leaves nothing to the imagination. Their MaleBasics string tulle bikini is great as well and is made of a mix of 5% spandex and 95% nylon.
There are many bodysuits in various styles and vivacious colours as well. There is the MaleBasic Lingerie sheer bodysuit with a cut out pouch and the MaleBasic Lingerie tie me up bodysuit. All of these are available in colours like white, black, red, etc.
MaleBasic Lingerie boxer brief underwear has styles like MaleBasic Lingerie sheer hip hugger, lacie boyshort, lace mini boy short, etc. There are various bold colours to choose from. Some of them have a crisscross pattern at the side and also feature lace.
For the sporty male, there is the MaleBasic Lingerie jockstrap made of lace (that makes it very comfortable) which is very attractive to look at. The lace makes it easy for sweat to evaporate when exercising.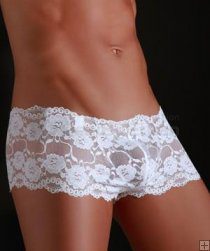 MaleBasic Lingerie thong underwear is another great style that flatters all males. There are several choices in this range as well. You can opt for lace and sheer styles made of mesh and netting. There are styles with lace strings at the sides, which makes them extremely attractive and functional at the same time. You can take your pick from the different styles according to your preferences.
The designing philosophy of MaleBasic Lingerie is distinctive and that's what sets it apart.