If you haven't been to Rio but have heard all about the fun and excitement experienced there and want to get a taste of it then pick up some CA-RIO-CA swimwear! Their amazing range of unique swimwear and other apparel and accessories will leave you wanting more!
The literal meaning of the word CA-RIO-CA is a resident or native of Rio. The company was started in Brazil's Rio de Janeiro by the city's indigenous people called Tupi. Their energy and spirit is a live manifestation come alive in the collections made by CA-RIO-CA. Ipanema Beach is where their sexy swimwear for men is handcrafted. The speciality of the swimwear line of this brand is that it flatters the male physique with overt exposure.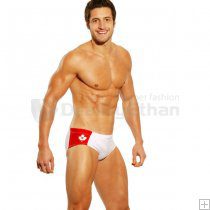 CA-RIO-CA bikini swimwear is a beautiful marriage between the traditional bikini and the local Brazilian Sunga. The fabric used in this style is a wonderful combination of 85% polyamide lycra and 15 % spandex and the lining made of 100% polyamide. For those patriotic Brazilians there is swimwear that flaunts the national flag of Brazil. The swimwear is available in a range of bold and vivacious colours to choose from.
Even with the square cut trunk swimwear of the brand, there is a hint of the Sunga style of swimwear that lends a wonderful uniqueness to the style and cut of this swimwear. The fabric is 15% spandex and 85 % polyamide lycra, which gives you a great fit and amazing stretchability. You can choose from solid mono colours with stripes or other prints.
CA-RIO-CA retro running shorts are great to wear at the beach as well as for indulging in various physical activities like running or working out in the gym. The shorts are actually a modern rendition of the traditional running shorts of the 70's. Get great freedom of movement from its broad leg openings which have contrast stitching and have been trimmed with fabric. They are made of 100% polyester, and are available in a number of colours like army green, burgundy, orange, royal blue, etc.
CA-RIO-CA short sleeved t shirts are available in a wide range of colours and necks like crew neck and v necks. The material used is really comfortable. CA-RIO-CA makes great baseball caps and trucker caps in different colours as well. For awesome and stylish accessories like necklaces and pendants CA-RIO-CA is a safe bet!
Go and embrace the Brazilian style and culture today only at Deal By Ethan!