The men's fashion brand 48 Hours was born in Britain – in Manchester to be precise. The flavour of the brand is quite contemporary and urban. Their street wear collection takes the culture, underground music and art scene of the late 1980s north Manchester into account for their styles. The style of 48 Hours menswear is totally unique and is simply more than just a lifestyle fashion brand. The brand celebrates the unpredictability of life as well as the party scene in the UK.
48 Hours manufactures a range of menswear like sweaters and cardigans, short sleeved t shirts and short sleeved shirts. They are available in huge range and collections and differ according to the colours used as well as the cuts and styles.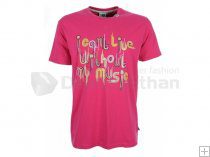 Their short sleeved shirts have many choices with around 18 styles. There are many different colours, patterns and styles to choose from, and the collections include lines like Smart, Feeder Stripe, Keith, Harris, Peyton, etc. The material used to craft each shirt is strictly 100% cotton so needless to say, they are extremely soft and comfortable. There is some detailing done on each style of shirt that adds a minute element of difference and contrast to each item of clothing. The buttons used are branded. The side of the shirt chest has the logo of the brand printed on it.
T shirts by 48 Hours are available in more 30 different varieties and choices depending upon the colours and prints used. The colours can be bold and vibrant as well as soft and subtle, depending upon your tastes and discretion. 100% cotton is used to craft all their articles of clothing. Their t shirts are round necked and are available in collections named Rhythm, Cant Live, Live Fast, Decks, Religion, Bonkers, Squared, Grade, Flash, Word Hard, Stamp, Basic, etc. The graphics on the front of shirt has quite sheen.
Even in the matter of sweaters and cardigans, 48 Hours does not lag behind. You have more than 16 varieties to choose from! All of them have a hoody featured and some differences in styles, colours and patterns. Differences also lie in the fact that some have a zip in the front but some do not have a zip. The material used is 100% fleece, and there is a kangaroo pocket in the garment as well.
Visit us at Deal by Ethan today to browse through the entire collection of 48 Hours and get great deals. Hurry!!