To cater to the varied tastes of fashion conscious men, menswear brands are constantly introducing new trends and styles in men's fashion clothing including underwear styles. Today's stylish and urban men are not afraid of stocking up their underwear drawers with all kinds of underwear, ranging from bikinis to thongs to g-strings in dazzling and flashy prints and patterns!
If you are tired of wearing the same old underwear in dull monochromatic tones, it is time now to showcase your free spirit in vibrant and playful Freegun boxer brief underwear! Among the various brands, Freegun is extremely popular for its original, premium and colourful collections that are meant to challenge conventional and boring men's underwear.
Launched in 2007, Freegun offers fun, trendy and unique men fashion clothing and accessories in bold colours and graphic prints for today's dynamic and ever changing man. The talented designers at Freegun are always updating their collection of men's underwear and bringing out new designs that are colourful, fun and edgy making them items that are meant to be cherished for years to come. Creating a wide range of men's designer underwear in every imaginable colour and design that offers a great fit, comfort, function and appeal, this leading menswear brand is a rage among style conscious men all over the world! Offering a myriad of boxer brief styles to choose from, you are sure to find one that matches your taste and personality.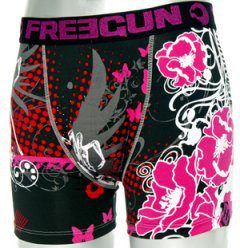 Offering full coverage as well eye catching styling, the Freegun Boxer Brief Underwear KRASH is the best way to show off your true colours! The materials used in the construction of this black with fuchsia, red and white printed boxer brief is a blend of polyester and elastane that ensures you experience a body hugging fit whenever you put it on. The excellent contoured pouch design offers daylong support as well as roominess. Embroidered with the signature trademark of the brand, the thick black waistband, along with the attention-grabbing graphic print, makes this ideal for everyday wear or athletic purposes! The smooth and stretchable fabric not only provides a form-fitting feel but feels light and airy on the skin.
If you want to showcase your playfulness as well as your fashion prowess in unconventional Freegun boxer brief underwear KRASH, visit our store today! Indulge yourself at our wide and exclusive range of fashionable men's underwear, swimwear, loungewear and menswear which are available at pocket-friendly prices!